Marquette Holds Off Gladstone Rally For GNC Win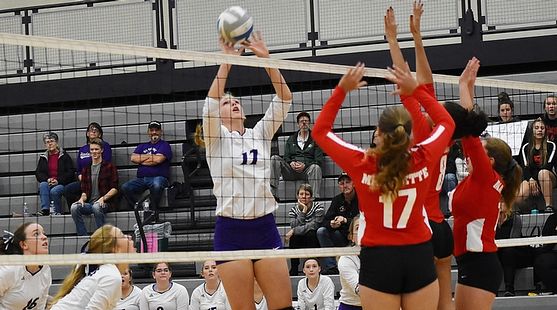 GLADSTONE---The Marquette Redettes held off a late Gladstone Braves rally to post a key Great Northern Conference volleyball win Tuesday night, 3-1, in Gladstone.

At the same time, Kingsford blanked Escanaba, 3-0, in Kingsford.

In Gladstone, the Braves raced to an 11-3 lead in the first set and took a 25-20 win.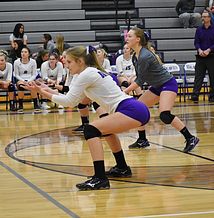 Then in the second set, Gladstone led, 24-22, and was serving for the set, before the Redettes rallied to stay alive. With the set on the line, freshman Seiler Hruska dove to save a ball an inch or two above the floor, and seconds later, the Redettes got a kill from Delaney Sall.

Marquette would win that set, 27-25, to tie the match at 1-1.

Marquette easily won the third set, 25-15, and appeared to be on its way to an easy win in the fourth set, leading 20-5. But not so fast. Gladstone went on a run. A big run.

Braves sophomore Megan Crow led the comeback with a dominating performance in the middle, getting a spike, a tip, and a block during the rally.

Crow's last point, a tip, brought the Braves back to within 24-23.

But Hruska put it away with a solid spike winner.

"When you get a big lead like that, you almost cringe as a coach," Marquette Coach Mike Morgan said. "It's hard to teach that killer instinct. The girls tend to let up a bit and then when the other team makes a run, they worry about making mistakes. And I tell you, that's when mistakes start happening. Gladstone made a heck of a run. We just needed to settle down, make a pass, and that's what we did to end it."

Marquette avenged its only conference loss of the season, a 3-2 win by Gladstone in Marquette. The Redettes have two GNC matches left: against Escanaba and Kingsford.

Click the thumbnails in the ARTICLE HIGHLIGHTS box above to see photos, videos, and hear comments from Marquette Coach Mike Morgan.