HOME SWEET HOME: Wildcats Blank Bemidji St.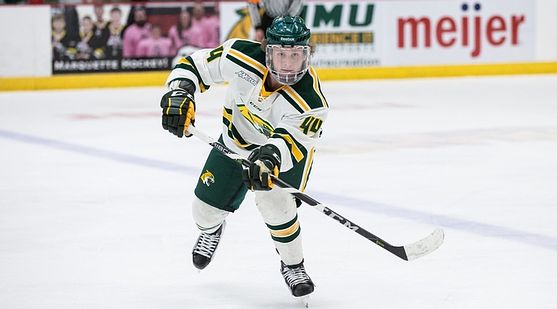 This story was written by NMU Sports Information

MARQUETTE---The Northern Michigan University hockey team earned a 3-0 victory in their home opener over Bemidji State University Friday evening in the Berry Evens Center.

It was a nearly even contest in the opening period with the Beavers edging the Wildcats 9-8, in shots. Neither team was able to find the back of the net, while all three combined power-play chances in the period were killed.

NMU controlled the pace for much of the second period, outshooting their opponent, 10-3, in the period. Senior defenseman Ryan Black (Stillwater, Minnesota) found the back of the net for the first time this season and second time in his career late in the period for the first goal of the game.

Senior forward Adam Rockwood (Coquitlam, British Columbia) and junior defenseman Philip Beaulieu (Duluth, Minnesota) both picked up their third assists of the season on the score.

After taking their 1-0 advantage into the second intermission, the Wildcats fought through the BSU pressure in the final period. NMU outshot Bemidji St. in the period, but the Beavers opted to pull their goaltender late in an attempt to tie the match.

Not long after BSU added a sixth skater, the Wildcats connected on an empty-net goal with less than a minute to play in the third period.

Senior forward Troy Loggins (Huntington Beach, California) intercepted a pass before sending into to senior forward Denver Pierce (Sault Ste. Marie, Michigan) for his second goal of the season.

Junior forward Darien Craighead (Surrey, British Columbia) found an empty net goal with six seconds remaining to put the game out of reach. For Craighead, it was his team-leading third goal of the season, while Beaulieu added his second assist of the contest. The two late goals gave the Wildcats a 3-0 victory to open their first Wester Collegiate Hockey Association series of the season.

Senior goaltender Atte Tolvanen's (Vihti, Finland) 20 saves guided the first Wildcat shutout in nearly a year. He owns the third-most saves in the NCAA this season with 142, while his save percentage sits at .904. The shutout moves him into sole possession of third-place in the Wildcat record book for career shutouts with nine.