Rapid River Advances To State Championship Game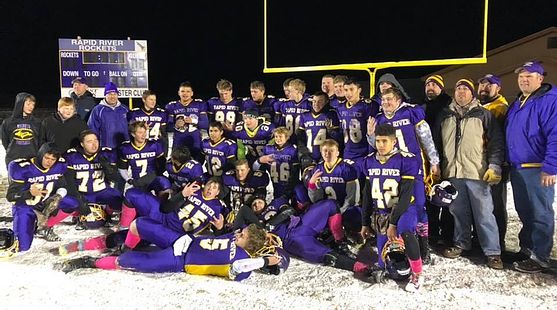 RAPID RIVER---The Rapid River High School football team advanced to the MHSAA Eight-Man Division Two state championship game Friday night with a 36-30 win over the Cedarville Trojans in snowy Rapid River.

Brett Lundquist tossed a 67-yard touchdown pass to Nate Olson in the fourth quarter to snap a tie, and then Tyler Sundling picked off a Trojan pass at the five yard-line with 45 seconds to play to seal the win.

"All I could think was catch the ball, please, please," Sundling said of the clinching interception. "Then I caught it and I didn't know what to do and I was trying to score! But Nate Olson pushed me down!"

And what was Olson thinking on the go-ahead touchdown catch?

"Catch the ball, secure the ball, make the touchdown, and don't fall," Olson said.

Lundquist completed eight of nine passes for 178 yards and three touchdowns. Two of them went to Olson, for 46 and 67 yards, plus a 24-yard yarder to Sundling.

"We just played as a team and trusted each other," Lundquist said. "We just played as a group and everyone contributed in this game."

It was Rapid River's third straight down-to-the-wire playoff win.

"This one definitely to me was a lot harder," senior Sam Orth said. "They're a little bit faster than Crystal Falls last week. To me, it was all about who wanted it more. We were going back and forth the whole game. I think we showed a little more heart there."

Cedarville took a 30-22 lead in the fourth quarter when Grant Fountain scored on a one-yard run with 10:45 to play. But Sundling took the ensuing kickoff 80 yards to the house, and then Olson threw the two-point pass to Lundquist to tie it at 30-30.

Fountain led the way with 146 yards on 27 carries for Cedarville, who finish at 7-5.

Rapid River (9-3) will face either Portland St. Patrick or Onekama in the state championship game next Saturday at the Superior Dome.

"It's a dream come true," Sundling said. "I could never imagine that day coming!"

"I said before (last week) that I had the greatest feeling in the world," Orth said. "This trumps it by about a mile."

Kick-off is 2:00. The game will be broadcast on Eagle 107.3 FM and on-line at www.radioresultsnetwork.com.

Click the thumbnails in the ARTICLE HIGHLIGHTS box above to hear post-game interveiws with six different Rapid River players.