Norse Women Snap Skid With Win Over Marinette
ESCANABA---The Bay College Norse women's basketball team snapped a three game losing streak in their home opener on Wednesday evening, beating the University of Wisconsin Green Bay, Marinette Buccaneers, 72-36.

The Norse would start the game off on a 13-1 run and raced to a 41-14 halftime lead.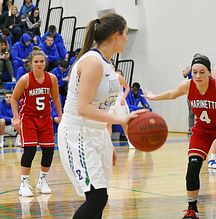 "We had a good team effort," said Head Coach Rob Robinson after the game. "Our players made a good adjustment against the zone right around half time to bust open a lead, and our press and pressure in the second half really wore them down. It's nice having a group of players that all have the ability to give us positive minutes every night."

Jordan Kraemer (SO, Norway, MI) would lead all scorers with 15 points. She would also pull down five rebounds. Taylor Hunter (FR, Gladstone, MI) would score ten points and grab six rebounds, while JuliAnn Wickman (FR, Felch, MI) would end the game with eight points.

For UW-Green Bay Marinette, Paige Reeiswitz (SO, Menominee, MI) would pace the team with eight points and five rebounds. Jordan Miller (SO, Marinette, WI) added seven points, four rebounds, four assists, and four steals. The Norse will host a Western Tech on Saturday afternoon. That game is scheduled for a 1 PM tip.

Click the above headline to see photos, video clips, and hear post-game comments from Coach Rob Robinson and Jordan Kraemer.

Also click to listen to the interview with Gladstone graduates Taylor Hunter and Kaitlyn Hardwick about their reaction to the death of former Braves Coach and Athletic Director Matt Houle.