Wildcats Roll To Win Over Ohio Dominican, 89-74

HILLSDALE, Mich.---Naba Echols made all seven of his first half shots and scored 27 points as the Northern Michigan University men's basketball team beat Ohio Dominican, 89-74, Tuesday at a tournament in Hillsdale.

Isaiah Johnson added 24 points and Sam Taylor chipped in 17 for NMU.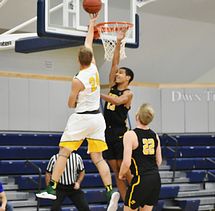 "We played really well in the first half," NMU Coach Bill Sall said. "Naba was unreal. But the nice thing is that everyone really shared the ball well. We got great shots. Sam, Zay, you can't say enough about the guys, and how hard they played to start that game. On the offensive side, when we move the ball like that, we're really hard to guard."

"That first half was feeling pretty great," Echols said. "Obviously, I had shots falling, but the way we defended, and the way we played today as a team, is what really set the tone."

NMU knocked off a Panthers team that went 20-11 last year and qualified for the NCAA-II national tournament. And the 'Cats will play another tournament team on Wednesday.



Taylor scored the first five points for NMU, but six points from the Panthers gave them an early lead before junior Kenton Mack (Algonquin, Ill.) gave NMU a 7-6 lead at the 16:58 mark. ODU made a three, but Johnson answered with a three and two layups to help NMU go ahead 14-9. Echols extended the lead with a layup, then Howard followed an ODU basket with a jumper and made the score 18-11 with 12:29 on the clock.

Echols continued the NMU rally with two more baskets, moving the NMU lead to 22-11.

After a Panther three-pointer, junior Marcus Matelski (Boyne Falls, Mich.) responded with his own three-pointer. ODU followed with another three then Echols hit a layup to keep a double-digit lead for NMU.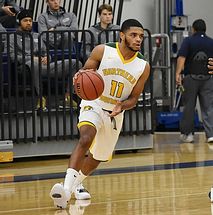 ODU managed to cut the lead to six points, but Echols and Howard each made a basket, and after an ODU layup, Mack made another layup to give NMU a 33-22 lead with 5:03 to play.

Johnson hit a three with 4:33 to play which ODU answered with an old-fashioned three-pointer. Echols followed with a make from behind the arc and after another Ohio Dominican basket, Johnson made a layup and Taylor hit a three to answer an ODU basket to make it 44-29 with 1:13 to play.

The Panthers hit two jumpers in the final minute, but Echols and Taylor both made threes to give the Wildcats a 50-33 lead at the half.

Echols started the second half with a free throw, but ODU made a jumper. Mack followed with a free throw then Johnson hit a layup to make it 54-35. The Panthers narrowed the gap to 54-40 but an Echols layup and another Matelski three quickly made it 59-40 with 16:25 to play.

ODU managed to cut the NMU advantage down to 12 points, 65-53, at the 10:04 mark, but NMU built the lead back up. Sophomore Alec Fruin (Beloit, Wis.) converted a three-point play, but ODU answered with a layup.

The Wildcats responded with threes from Fruin and Taylor and a Johnson free throw to move the lead up to 75-55 with just under seven minutes to play.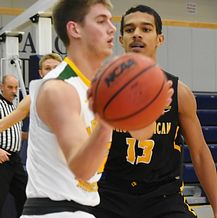 Echols was able to get the lead into the twenties, hitting two free throws, and after an ODU basket, Johnson made it 79-58 with 5:28 to play.

The Panthers slowly cut into the lead, but never got closer than 15 points the rest of the game to give NMU the 89-74 victory.
Echols led the Wildcats with 27 points, finishing 8-9 from the field, including 2-2 from three, and went 9-12 from the free throw line. He also added six assists and a blocked shot. Johnson added 24 points, hitting three three-pointers and had six rebounds.

Taylor, on his 21st birthday, tied a career-high with five three-pointers and ended the game with 17 points. He also led the team with three steals.

Junior Myles Howard (Chicago, Ill.) posted three blocks and led the team with seven rebounds. The Wildcats finished the game shooting 55% from the field and 54% from the behind the three-point line. Defensively they forced 16 turnovers and scored 24 points off those turnovers.

The Wildcats improve to 4-0 for the first time since the 2008-09 season while ODU falls to 3-2 on the year. NMU will return to action Wednesday to take on another former GLIAC foe in Hillsdale University. Game time is 4:00 and it will be broadcast live on WUPT-FM (100.3 The Point) and WCHT-AM (NewsTalk 600).

Click the thumbnails in the ARTICLE HIGHLIGHTS box above to see more photos, videos from Tuesday's game. Also click to hear post-game comments from Coach Bill Sall and Naba Echols, and hear player spotlight interviews with Marcus Matelski and recruit Reece Castor.