DEFENSIVE GRIND: Norse Women Top Cavaliers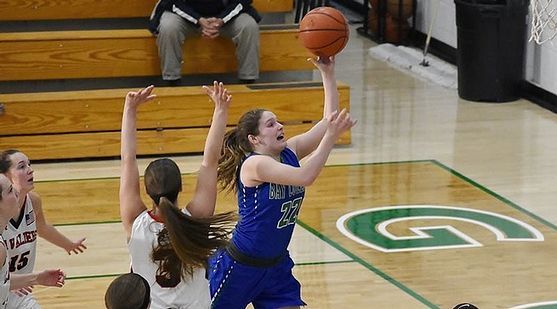 IRONWOOD---Points were at a premium on Friday as the Bay College Norse women's basketball team won a defensive battle over the Western Tech (Wis.) Cavaliers, 43-33, in Ironwood. The two teams combined for nearly as many turnovers (62) as they did points (76) in the 40 minutes of basketball.

Both teams shot less than 30-percent from the field, with Western Tech making only one of the 19 three-point shots the women took.


The Norse trailed, 8-5, after the first quarter, and trailed, 13-9, midway through the second quarter. That's when Bay scored nine straight points on consecutive triples by Kelsea Ackerman, Jordan Belleville, and Jordan Kraemer.

The Cavaliers tied the game at 27-27 before Keshia Davis made a basket drew a foul. She made the shot and it was a 30-27 lead. JuliAnn Wickman followed with a three-point basket, and Kraemer had a steal and a basket to open up a 35-29 lead.

Kraemer led all scorers with 16 points, and she added a dozen rebounds.

Kerrigan Lyga had 11 points to lead the way for Western Tech (5-5).

Bay College (9-5) has won five straight games. The Norse do not have a game on Saturday because the Leach Lake (Minn.) Tribal School ended its womens program.

Click the thumbnails in the ARTICLE HIGHLIGHTS box above to see photos and videos, and hear the halftime interview with Marissa Ackerman.