Bay College Women Have Winning Streak Snapped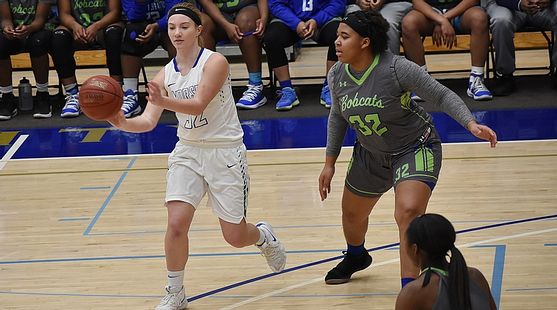 WAUWATOSA, Wis.---The Bay College women's basketball team rallied from a 13-point deficit to take a fourth quarter lead, but eventually fell to the Bryant & Stratton Bobcats, 62-56, Wednesday night in suburban Milwaukee.

The loss snapped Bay College's nine-game winning streak.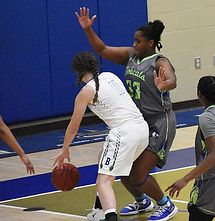 The Norse took a 10-2 lead in the first three minutes of the game as Haley Trudell nailed a pair of triples and Jordan Kraemer scored on a pair of layups that were caused by Bay's defensive trap.

But the rest of the first half was controlled by the Bobcats, who outscored the Norse, 26-6, to turn the eight-point deficit into a twelve-point lead.

Most of that lead was accomplished at the free throw line, as the Norse went to the line just four times while the Bobcats made 13-of-16 from the line in the half.

Bay's best quarter was the third.

After falling behind, 40-27, the Norse went on an 8-0 run as Brooke Dalgord had a basket and a foul shot, and then had a steal after her three-point play.

The Norse climbed to within 42-39 after three quarters before the Bobcats went back in front, 47-40, after a triple by Ashley Moses.

The Norse made another 8-0 run as JuliAnn Wickman nailed a three-pointer, then after a Paige Welch steal, Wickman drained another triple. Then the Norse grabbed their only lead of the second half when Taylor Hunter scored inside to make it 48-47.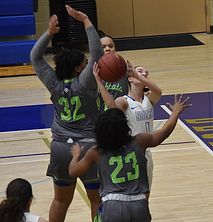 The Bobcats responded, however, with stepped up defense and an 11-2 run of their own to take a 58-50 lead before Wickman banked in a triple in the final minute after a Kraemer steal.

Welch also knocked down a triple late in the game, but it wasn't enough. Kraemer led the Norse with 16 points. Wickman added 11. Hawthorne led Bryant & Stratton (12-8) with 16 points.

Bay College (13-6) wraps up the three-game roadtrip with a game at the University of Wisconsin-Milwaukee-Waukesha. The game starts at 8:15 ET/7:15 CT. It will be broadcast live on Maverick 106.3 FM and on-line at www.radioresultsnetwork.com.

Click the thumbnails in the ARTICLE HIGHLIGHTS box above to see photos and video highlights, and listen to post-game comments from Coach Rob Robinson. Also listen to Jordan Kraemer's player spotlight interview.