Norse Wrap Up Road Trip With Win At Waukesha

WAUKESHA, Wis.---The Bay College Norse women's basketball team went on a 24-0 run in the third quarter and pulled away to a 74-46 win over the University of Wisconsin-Waukesha Thursday night in suburban Milwaukee. The win wrapped up a three-game road trip with a 2-1 record, and the Norse improved to 14-6 on the season.

Jordan Kraemer led the Norse with 20 points, while Jordan Belleville nailed three long triples to finish with nine points. Taylor Hunter added ten points for Bay.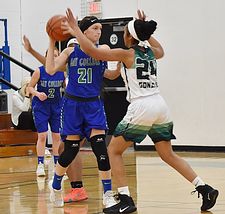 The Norse started fast, building a 20-6 lead after the first quarter. But the Cougars rallied in the second quarter, outscoring Bay, 15-10, to close to within 30-21 at the half.

Waukesha scored the first basket of the third quarter to make it 30-23, but the Norse scored the next 24 points to put the game away.

Haley Trudell got things started with a triple, then after a steal, Kraemer scored inside and was fouled. Moments later, Paige Welch was fouled inside and made one free throw, and on her missed second shot, Hunter got the board and put it home to make it 38-23.

Later, Belleville sank a three from well behind the line, Kraemer scored again, Marissa Ackerman swished two free throws, and Belleville swished another triple.

All of a sudden, the Norse had a 54-23 lead.

Aleah Herron led the Cougars (2-8) with 20 points. Myazia Allen, who initially came to Bay College last year before returning home to Milwaukee for school, had 15 points.

JuliAnn Wickman also added nine points for Bay College.

The Norse (14-6) travel to Ironwood next Wednesday to face Gogebic Community College in the first of two regional tournament seeding contests. Game time is 6:00 Eastern. It will be broadcasi on Maverick 106.3 and at radioresultsnetwork.com.

Click the thumbnails in the ARTICLE HIGHLIGHTS box above to see photos and videos, and hear post-game comments from Kraemer and Coach Rob Robinson. Also hear Marissa Ackerman's halftime interview.