BIG REGIONAL 'W': Bay Women Roll Past Gogebic

IRONWOOD---The Bay College women's basketball team pulled away in the third quarter to post a 68-49 win over the Gogebic Community College Samsons Wednesday night in Ironwood.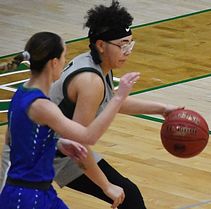 The game was tied, 29-29, in the final minute of the second quarter, before Paige Welch scored inside, and Jordan Kraemer added a driving layup after getting a steal at the other end.

The Norse expanded that 33-29 halftime lead as Haley Trudell knocked down a three, Kelsea Ackerman made four free throws (two of them after a technical foul), and Taylor Hunter added a basket and two foul shots.

The Norse outscored the Samsons, 18-11, in the third quarter, to take a 51-40 lead, then scored the first five points of the fourth quarter as Brooke Dalgord got an "and-one" on an offensive putback, and Keshia Davis scored on a strong drive to the hoop.

The Norse improved to 15-6 on the season and have now won eleven of their last 12 games. They will host a NJCAA Region 13 tournament game if they beat GCC again in two weeks. That game will be played in Escababa.

Bay had twelve different players score, led by Kraemer's 13 points.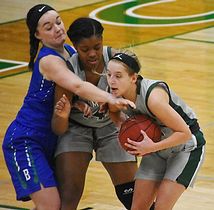 Trudell had three triples to finish with nine points, and JuliAnn Wickman had two straight triples in the second quarter when the Norse were trailing in the game.

Bailey Froberg led all scorers with 28 points for the Samsons. Gogebic also got 12 points from Ariana White, including three three-point baskets.

Gogebic fell to 11-11 on the season.

Bay College hosts the University of Wisconsin-Marinette on Saturday at the Bay College.

Game time is 1:00 and it will be broadcast live on Maverick 106.3 FM and on-line at radioresultsnetwork.com.

Click the thumbnails in the ARTICLE HIGHLIGHTS box above to see photos and videos, and hear Keshia Davis's halftime interview and post-game comments from Coach Rob Robinson.