MOVING ON: Bay Ladies Top Gogebic In Playoffs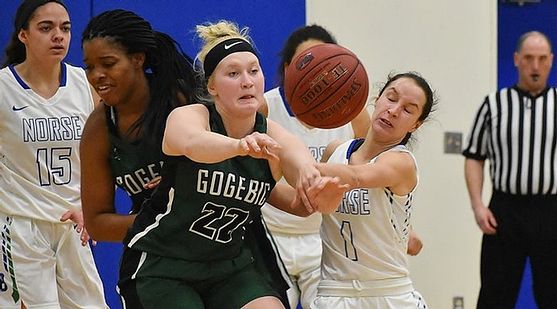 ESCANABA---The Bay College Norse women's basketball team opened the NJCAA Region 13 tournament with a dominating 78-40 win over Gogenic Community College Wednesday night in Escanaba. The win was Bay's third over GCC this season, and it allowed the Norse to finish their season with an undefeated record on their home court.

It also sent the Norse into the regional championship game Sunday in North Dakota.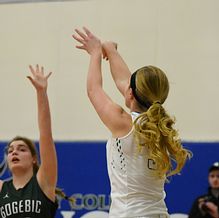 The Norse nailed 17 three-point baskets in the win, with Haley Trudell knocking down five of them. She led the Norse in scoring with 17 points, and she did it in just 15 minutes.

Jordan Kraemer also knocked down a pair of triples and had tweleve points, and Brooke Dalgord sank three three-point baskets and scored eleven points.

Jordan Belleville had a solid game despite not scoring a single point. She had ten assists at the point guard position, and she did not have a single turnover.

Gogebic, last year's regional champion, was handicapped this time around with low numbers and an injury to its best player. Bailey Froberg hurt her ankle during practice on Monday and could not play Wednesday night.

Maddy Cronkwright scored 13 points and Airianna White has 12 rebounds for Gogebic, which finishes its season with a 14-17 record. Bay improved to 21-7.

Bay College took a 27-12 lead after the first quarter after Kraemer launched a 30-foot three-pointer at the buzzer, and it went, nothing but net. The Norse then clamped down on defense in the second quarter, allowing just five points, to lead at the half, 41-17.

Paige Welch had a nice all-around game for the Norse, with eight points, four steals, and four assists. Marissa Ackerman and her twin sister Kelsea both made two triples.

REGIONAL FINAL NEXT: The Norse will face the United Tribes Technical Collehe Thunderbirds in Bismarck on Sunday. United Tribes rallied from 13 points down in the fourth quarter Wednesday to beat Bottineau (ND), 76-75, in the other semifinal. The Thunderbirds are just 14-16 on the season, but one of their wins came against the Norse (64-59) back in November. Sunday's game time has not yet been announced.

Click the thumbnails in the ARTICLE HIGHLIGHTS box above to see photos and video clips. Also listen to post-game comments from Belleville, Trudell, and Coach Rob Robinson, and Taylor Hunter's halftime interview.