END OF THE LINE: Norse Eliminated In Regionals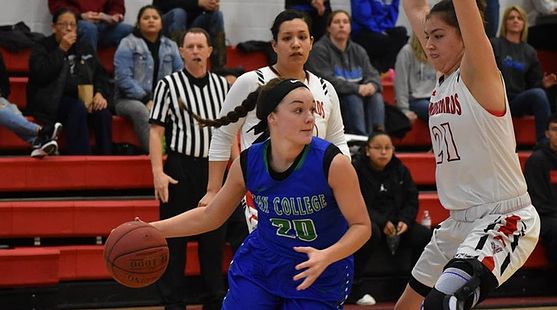 BISMARCK, ND---The Bay College women's basketball team had a ten-point lead in the first half on Sunday, but lost to the United Tribes Technical College, 80-70, in the NJCAA Region 13 championship game in Bismarck, ND.

Jordan Kraemer scores a school record 34 points in a losing effort for the Norse, who finish their season with a 21-8 record.

Kraemer and fellow sophomore Paige Welch were named to the All-Region team.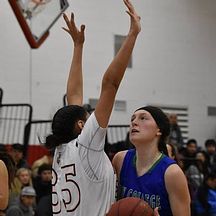 Kraemer's three-pointer, followed by a baseline drive by Taylor Hunter, gave the Norse a 21-11 lead in the final minute of the first quarter.

But the Norse scored just one basket in the entire second quarter, and the Thunderbirds got hot from downtown.

United Tribes (15-16) got four triples from Tariq Brown Otter, and Jasmyne Two Moons had a triple and a long two. Bay was able to knock down ten free throws to stay in the game, and trailed by four at halftime, 37-33.

In the third quarter, a killer for the Norse was a three-pointer by Brown Otter from the top of the key as the shot clock expired. She was fouled by Marissa Ackerman on the play, and made the free throw. The four points turned a 43-38 game into a 47-38 score.

It went downhill from there when Welch suffered a broken nose in a collission with a United Tribes player, and Jordan Belleville, already battling an illness, took a forearm to the chest on what she thought was an offensive foul. It wasn't called, and Belleville did not play most of the se. Haley Trudell, who made a late triple, played with the flu.

The Thunderbirds out the game away with another run in the fourth quarterm keyed by K'Lona Lofton, who scored 19 of her 23 points after halftime. Brown Otter also scored 23 points and Two Moons finished with 17.


For the Norse, Hunter had ten points to go along with Kraemer's 34.

The Norse did not have the normal defense zip that has characterized the team's ,late-season push, in which it won 17 of 18 games at one point.

The team forced only three turnovers in the first half after being amongst the nation's leaders in that department during the regular season. The Norse made the long 14-hour ride on a small bus on Saturday, arriving in frigid Bismarck at midnight Saturday night. The team cancelled its morning shootaround Sunday to get some extra rest, but throughout the game, the Norse appeared to be out of gas after that strong first quarter.

The Norse arrived back in Escanaba at 8:30 Monday morning.

Click the thumbnails in the ARTICLE HIGHLIGHTS box above to see photos, video highlights from the game.