NORSE FIRST TIME: Bay's Baseball Program Starts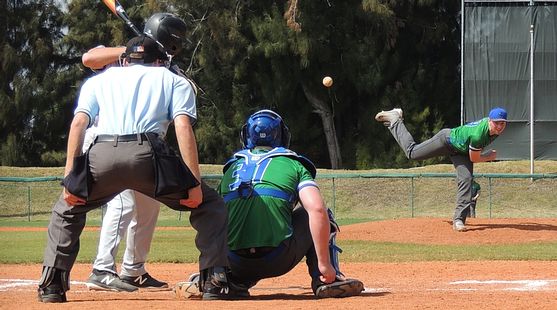 FT. PIERCE, Fla.---The Bay Norse Baseball Team (0-3) collected just four hits and were shut out, dropping a 5-0 decision to the Cairn University JV team on Sunday.


The biggest threats of the day would come in the third inning when Lucas Weinert (FR, Gladstone, MI) would line a two out double to center. He would be stranded in scoring possession as the next batter would ground to second.

The Norse would attempt another two out rally in the fifth. Owen Hanson (FR, Gladstone, MI) would reach on an error, and Jesus Becerra-Rangle (FR, Zacatecas, Mexico) would reach on an infield single. Weinert's hard ground ball on the next at bat would not find a hole however, and the Norse would go away empty handed.


Cairn would take the lead in the first when Russ Hall (JR, Smithfield, VA) would double to drive in a run. Bay would work out of trouble and strand runners on second and third. Cairn would build on their lead in the third, taking advantage of an error, a walk, and a hit batsman to load the bases. Hall came through again, this time with a single to right to drive in two runs. Cairn would add insurance runs in the fourth and fifth.


Tyler Skufca (SO, Escanaba, MI) would take the loss on the mound, despite giving up just two earned runs. He would give up seven hits, walk two, and hit two batters, while striking out six. Mason Korhonen (FR, Bark River, MI) worked a scoreless inning in relief, striking out one batter.


Matthew Fink (FR, Marlton, NJ) earned the win on the mound, striking out eight batters in five innings of work. Hall ended up with two hits in three at bats, while driving in three runs. Jonathon Thiero (FR, Piscataway, NJ) would go two for four with one RBI, two runs scores, and two stolen bases.


The Norse travel to Palm Beach State in Lake Worth, Florida Monday afternoon. The single game is scheduled for a 3 pm first pitch.



SATURDAY'S GAME RECAPS

VERO BEACH, Fla.---The Bay College Norse men's baseball team played its first-ever games on Saturday, losing a pair to Hagerstown (Md.) Community College, 6-3 and 15-8, at Dodgertown in Vero Beach, Florida.

The doubleheader was played at Holman Stadium, where the Los Angeles Dodgers played Spring Training games for more than 50 years. The Norse sent Escanaba native Justin Popelka to the mound in the opener, played under sunny, 80 degree c0nditions, as a winter storm was approaching the Upper Peninsula back home.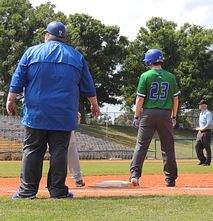 Popelka struggled early, giving up two runs on three hits in the first inning, then allowed another run in the second inning on a first-and-third double steal.

From there, Popelka settled down, keeping his team alive as the bats struggled against Hawks pitcher Brock Smith.

Five of the first six Norse batters struck out, but Gladstone native Lucas Weinert was able to get Bay's first-ever base hit with a shot to left.

It stayed 3-0 for the Hawks through the middle innings as Popelka picked one runner off of first base, and got another in a pickle between second and third base. Finally, the Norse got their first run in the top of the sixth inning when Australian Flynn Morrison bounced a bad-hop single, Kyler Moir followed with a single, and Ty Ziegler smacked one to center field to bring home Bay's first run.

In the bottom of the sixth inningm Hagerstown loaded the bases with two out against a tiring Popelka. With the bases loaded and two out, Popelka faced #9 hitter Enrique Morales, who had struck out in his previous two a-bats. This time, however, Morales smoked a bases-clearing triple to the fence, making it a 6-1 game.

Bay scored twice in the top of the seventh inning when Tyler Skufca's fly ball got away from the Hawks left fielder to bring in one, and Mark Zhang's sacrifice fly plated the second. Morrison struck out, however, to end the comeback attempt.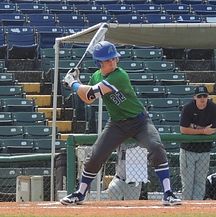 In the second game of Saturday's doubleheader, Moir got the ball on the hill, and was battered for four runs on three hits in the first inning. Two Norse errors also hurt during that inning. The Norse closed to within 4-2 in the bottom of the inning when Morrison smoked a two-run double down the right field line with two out.

The Hawks got those two runs back in the second inning on a long Nate Cotton hime run, and a sacrfice fly by Andrew Matthias. But Moir was able to set the Hawks to strand the bases loaded in each of those first two innings, so Bay stayed in the game.

Zhang led off the bottom of the second inning with a double, and scored on a sacrafice fly by Gladstone native Ben Schwalbach. The teams exchanged runs in every inning, but with Hagerstown leading, 8-4, the Norse rallied to tie the contest.

The four runs came on a Skufca grounder with a man on third base, a bases loaded walk to Morrison, and an error at third base on a bouncer by Schwalbach.

It was tied at 8-8 in the sixth inning when things fell apart for the Norse. They committed three errors in the inning, and gave up seven runs, with Cotton, Josh Menders, and Austin Moser getting back-to-back-to-back RBI basse hits.

In all, Hagerstown pounded out 15 hits against three Norse picthers, before Gladstone native Owen Hanson came on to toss a scoreless seventh inning. The Hawks finished their 13-games-in-seven-days trip to Florida with a 10-3 record.



Alex Morehouse and Dane VanDenHeuvel finished the game two for four. Connor Olson (FR, Washburn, WI) would be saddled with the loss in relief.

Cotton ended the game four for six for the Hawks with four RBI.


The Norse, playing their first-ever games after a 30-hour bus trip from the U.P. Thursday night and Friday, fell to 0-2, with single games set for Sunday and Monday.

Click the thumbnails in the ARTICLE HIGHLIGHTS box above to see photos and video clips, and hear post-game comments from Popelka and Coach Mike Pankow.