Eskymos Finish 1-2 In Season-Opening Tournament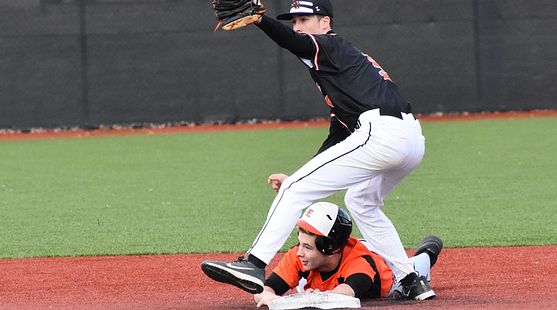 MAUSTON, Wis.---The Escanaba Eskymos fell behind 6-1 in the first two innings and lost to the Hayward Hurricanes, 11-6, on Saturday in Mauston, Wis. This followed a win and a loss for the Eskymos in Friday's action, sending Esky home with a 1-2 record.

Craig Kamin had two hits (including a triple) and a walk, and scored two runs. Jared Hanson also scored twice, with a hit and a walk.

Jake Anderson and Jake LaFave both had two runs batted in, while Collin Arnt, Bryant Maki, Austin Willette, and Zeke Strand also had base hits.

Riley Lamb started on the mound and threw three innings, giving up six runs (five earned) on three hits and five walks. Parker Frappier gave up five runs on six hits in 2 1/3 innings, and Josh Bruntjens threw the final 1 2/3 scoreless innings.

Escanaba returns to action next weekend in Waupun, Wis.


FRIDAY'S GAME SUMMARIES

The Escanaba High School baseball team scored six runs in the fourth inning then hung on for a 7-4 win over New Richmond (Wis.) Friday to open the 2019 season. The Eskymos lost the night game to Eau Claire Memroial, 12-2.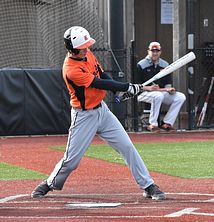 The opener was scoreless through three innings before the Eskymos got the bats going.

Craig Kamin beat out an infield hit and scored on a single by Grant LaMarche. Zeke Strand had his bid for a base hit stopped by the Tigers third baseman, but the throw to the plate was late, with LaMarche belly-flopping home safely.

Jake LaFave singled home Austin Willette, and Tyler Lawson came through with a two-run single, scoring Strand and LaFave, making it 6-0.

Jared Hanson was crusing along on the mound, with help from outfielders Josh Bruntjens and Kamin, who caught long fly balls. Hanson's pitch count started to rise in the fifth inning, but he got through it, allowing just one run.

Noah Lancour came on to pitch in the sixth inning, and despite getting two strikes on every batter in the inning, had trouble with walks. He gave up a two-run triple in that inning, but LaMarche made a diving catch of a line drive to help stop the rally.

The Eskymos got one run back in the seventh inning on a Willette sacrafice fly (after LaMarche doubled to the fence to lead off the inning).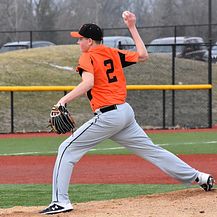 In the bottom of the inning, the Tigers had two on with two out before Lancour got a ground ball to third baseman Parker Frappier to end the ballgame.

In the night game, the Eskymos managed just one base hit (an RBI hit by Willette) and Lawson walked twice and scored a run. Escanaba trailed, 4-1, in the fourth inning, before Eau Claire put six runs on the board, and eventually won the game in six innings.

LaMarche pitched the first 2 1/3 innings and took the loss. allowing six walks and four hits, and four runs (two earned). Hunter Lancour threw the next 2 1/3 innings and walked seven batters, allowing six runs (four earned) on two hits.

Frappier got the game's final two outs and also allowed two runs, walking two and giving up two hits. Escanaba pitchers walked 15 batters altogether.

Escanaba plays Hawyard, Wis., Saturday at 4:45 ET/3:45 CT.

Click the thumbnails in the ARTICLE HIGHLIGHTS box above to see photos and videos from the first game, and hear post-game comments from Coach Scott Hanson and senior Jake Anderson.