CHALLENGE MET: Esky Takes Three In Wisconsin

ASHWAUBENON, Wis.---The Escanaba High School softball team won three games on Saturday to take the Ashwaubenon Invitational on a chilly day in suburban Green Bay.

The Eskymos beat Slinger, Wis.,5-0, and then after a meal break, beat Manitowoc, Wis., and Beaver Dam, Wis., by idnetical 11-1 scores.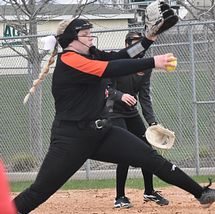 The first game was the most compelling of the day, as the Eskymos faced the Slinger (Wis.) Owls. Escanaba is the defending Michigan state champion in Division Two, and Slinger made the final four in Division One in Wisconsin.

Both are highly ranked so far this season, with the Eskymos ranked #1 in Michigan and Slinger ranked #2 in Wisconsin.

Escanaba got off to a good start by going to "small ball" in the opening inning. Lexi Chaillier, Jalin Olson, and Nicole Kamin all bunted successfully in the inning, with Dakota Cloutier ripping an RBI double to the fence during that rally.

Kamin's bunt brought home Olson, and a third run scored on a wild pitch.

The 3-0 lead was plenty, as usual, for pitcher Gabi Salo.

Salo, a University of Wisconsin recruit, had to get out of one jam in the fourth inning when she gave up a walk and an infield single. But she used a wicked change-up to end the inning on a strikeout, one of 14 she had in the contest.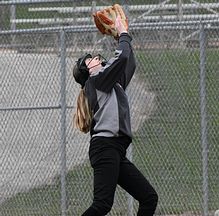 Salo allowed three hits and three walks.

Ericka Moore had an RBI single and Carsyn Segorski added an RBI hit.

In the second game, Escanaba scored three runs in the first inning against Manitowoc, and put it away with six runs in the second inning.

Cloutier smacked another RBI double, Kamin had a two-run single, and Segorski added a hit that scored two more runs.

Chaillier capped the win with a two-run homer in the fifth inning. Kamin threw three innings for the win, while Emily Moore pitched the final two innings.

In the third game, Escanaba had a six-run third inning to blow past the Golden Beavers. Segorski had a two-run double, Emily Moore doubled in a run,Kamin had an RBI single, and Chaillier had a two-run triple in the fifth inning. Maddie Block had three hits.

Salo threw the first four innings for the win, striking out 11 more batters and allowing two hits. Emily Moore threw the fifth and final inning.

Escanaba improved to 8-0 on the season with Satursday's wins.

Click the thumbnails in the ARTICLE HIGHLIGHTS box above to see photos and video clips from the Escanaba-Slinger game.