BOUNCING BACK: Eskymos Win In Green Bay 10-2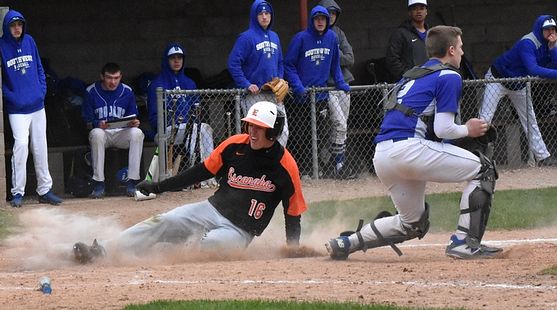 GREEN BAY---The Escanaba High School baseball team bounced back from Thursday's losses to the Negaunee Miners by posting a 10-2 win over Green Bay Southwest on Saturday in Green Bay.


The Eskymos got strong pitching from Riley Lamb, an offensive jolt from Nick Miller, and a clutch catch by Bryant Maki before breaking open a tight game over the final three innings.

Escanaba trailed, 1-0, before Miller came off the bench to get the offense going in the top of the fourth inning. He scored on a Noah Lancour ground ball and the Eskymos were finally on the board. In the bottom of the fourth inning, Lamb got into trouble with a walk and a controversial play where a runner was called safe on second base as the Eskymos tried to turn a double play.

With runners on second and third, Lamb was able to get a grounder up the middle and caught the runner off of third. Then it looked like the Trojans would get two runs with a fly ball slicing down the right field line, but Maki raced over, dove, and made a big catch to keep the game tied at 1-1.

In the top of the fifth, the Eskymos scored three times as Grant LaMarche led off with a double, Austin Willette walked, and Jake Anderson got a bunt single on a ball that went mere inches from the plate. Jared Hanson walked to force home the go-ahead run, then Josh Brunthens singled to left field to make it 3-1.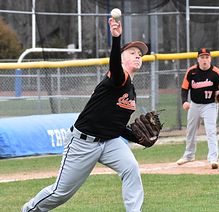 Anderson eventually scored on a wild pitch.

Escanaba added a run in the sixth inning on another Green Bay error, then in the top of the seventh, the Eskymis got insurance when Lancour singled home Tyler Lawson and Bruntjens, and Willette smoked a double to the right field fence.

Lamb worked 5 1/3 innings, allowing seven hits and seven walks, but making big pitches to get outs when he needed them.

And the defense was nearly flawless behind him, making only one error after having a rough game Thursday against Negaunee. Willette finished on the mound with 1 2/3 innings of work.

Escanaba (5-6) returns to Great Northern Conference play with a home game against Marquette and road games Tuesday in Gladstone.

Click the thumbnails in the ARTICLE HIGHLIGHTS box above to see photos and videos from Saturday's game.