BIG SKY-BOUND: Bay Softball Ready For Regional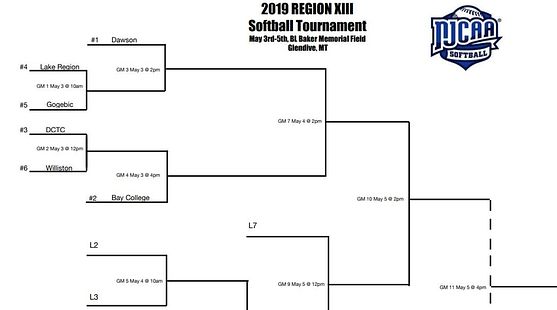 This story was written by Bay College SID Mike Pankow

ESCANABA---The Bay College Softball Team (25-7) will be the number 2 seed in the Region XIII Tournament to be held in Glendive, MT on May 3-5.

The Norse will receive a bye in the first round of games, and will await the winner of #3 Dakota County Technical College and #6 Williston State. DCTC and Williston face off at 2 pm, and Bay will face the winner of that game at 6 pm.

The Norse met up with the Blue Knights of Dakota County Tech this past weekend, sweeping a four game series. Bay won by scores of 8-5, 4-2, 12-5, and 3-0. Williston State and Bay College have never played before.

"Going into the Regional Tournament as the number two seed is a pretty good spot to be in," said Head Softball Coach Heidi Charon. "It gives us enough confidence to come into a potential game with top seed Dawson very aggressively. They have a lot to defend, while we are going into the weekend knowing that we don't have anything to lose. We're going to take advantage of the momentum we've developed over the past few weeks to bring out the absolute best for the games this weekend."

The six-team double-elimination tournament begins on Friday and will conclude on Sunday. Dawson Community College earned the top seed in the tournament. They beat the Norse by scores of 5-4 and 10-2 back in March.

The other first round matchup features the four seed, Lake Region State, and Gogebic Community College, the five seed. Bay College beat Lake Region State twice, by identical scores of 12-3. The Norse also swept Gogebic Community College, taking those games by finals scores of 14-0, 20-0, 16-0, and 12-4.

The winner of the Region XIII Tournament will advance to the District Championship Tournament to be held on May 15-16. Sixteen District Tournament Champions advance to the National Championship in Clinton, Mississippi on May 22-25.