Braves Dominate Eskymos In Doubleheader Sweep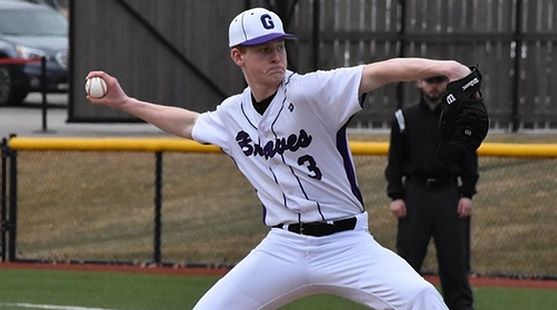 GLADSTONE---The Gladstone Braves swept both ends of a doubleheader from the Escanaba Eskymos, 10-0 and 12-2, on a chilly late afternoon Tuesday in Gladstone.

The Braves were dominant in every phase of the game as they stayed perfect in Great Northern Conference play. Gladstone followed up Saturday's double whitewash of the Kingsley Stags with an encore in this twinbill, and has allowed just three runs over the past four games.

Drake Forrest pitched all five innings in the opener, and was given plenty of early offensive support.

In the bottom of the second inning, Cody Frappier was hit by a pitch and Cooper Cavadeas had an infield hit. They both rode home on a three-run homer to left field by Jared Crow.

In the third inning, Forrest doubled to center field and came home on a home run by Frappier to make it 5-0.

The Braves put the game away with five more runs in the bottom of the fifth inning. Two of the runs came home on a double by Cavadeas, and the game ended on a wild pitch.
Forrest allowed just three hits and did not walk a batter, striking out six.
Craig Kamin took the loss, allowing ten runs on eleven hits.

Escanaba's three hits came from Tyler Lawson, Grant LaMarche, and Josh Bruntjens.

In the second game, the Braves raced to a 7-0 lead in the first two innings. Christian Creten led off with an infield hit, Riley Baldovski followed with a hit, then Caden Alworden and Zach Hanson had back-to-back doubles. Ben Kelly followed with a two-run triple to make it 7-0.

Escanaba finally got on the board in the top of the third when Kamin walked, went to second on a passed ball, and scored when LaMarche's shot went past Gladstone shortstop Zach Hanson.

In the bottom of the fourth, a walk and two hit-batsmen loaded the bases, and Brody Sanville unloaded them with a three-run double to center. That made it 10-1.

Zeke Strand scored on a grounder by Hunter Lancour in the top of the fifth to cut it to 10-2, but the Braves ended it in the bottom of the inning when Frappier was hit by a pitch with the bases loaded, and Carson Shea scored on a passed ball.

LaMarche had two hits and Lawson had one for the Eskymos in the second game.

Crow got the win on the mound for Gladstone, allowing one run on two hits and two walks in four innings. He fanned five batters. Ian Scgwalbach pitched one inning in relief.
LaMarche took the loss for Escanaba, allowing six runs on seven hits in three innings of work. Hunter Lancour pitched one inning in relief.

Gladstone improved to 9-5 on the season, while Escanaba fell to 5-8.