CLEAN SWEEP: Eskymos Beat Sault, Cheboygan

ESCANABA---The Escanaba High School baseball team won both of its games at its home tournament on Saturday, turning back Sault Ste. Marie, 10-4, and Cheboygan, 6-0.

The Kingsford Flivvers split their games at the event, beating the Soo, 18-3, before losing to Cheboygan, 3-2. The games featured four of the five teams who will play in the upcoming district tournament (along with Marquette), and the tournament was played in a showcase format, meaning there was no championship or third place game.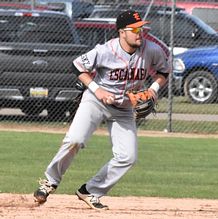 ESCANABA 10, SAULT STE. MARIE 4---Escanaba jumped to a 7-0 lead in the first two innings and coasted to the victory. Tyler Lawson and Bryant Maki led off with singles and eventually scored on a pair of Blue Devil errors.

In the second inning, Craig Kamin's short fly ball to right field brought home two runs when Zeke Strand and Lawson both tagged up and scored, with the throw to the plate hitting Lawson in the helmet. Austin Willette's sacrafice fly made it 7-0.

Kamin drove in Lawson with a base hit in the fourth inning to make it 8-1, then in the fifth, Jake Anderson singled home Noah Lancour, then another error in the sixth inning brought in Escanaba's tenth run.

The Blue Devils got three runs in the seventh inning against Eskymo reliever Josh Bruntjens on an RBI single by Garrett Brown and a two-run hut by Paul Allardl. But the BLue Devils could get no closer.

It was a sloppy game, with the Sault committing six errors and the Eskymos three.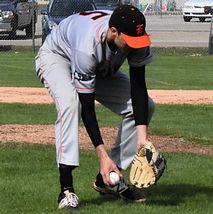 Escanaba had nine hits in the game; two each by Lawson and Maki. Kamin had four runs batted in, including two on that short fly ball to right field.

Grant LaMarche threw five innings to earn the win, giving up one unearned run on three hits and four walks. He fanned six Sault batters. Bruntjens was tagged with three runs on hour hits in two innings of relief. He struck out three batters.

Dalton Graham started for the Sault and did not survive the first inning, allowing four runs (one earned). Allard pitched the final five innings and allowed six runs (four earned) on seven hits.

ESCANABA 6, CHEBOYGAN 0---The Eskymos had a long wait before playing their second game, as Kingsford blasted Sault Ste. Marie, 18-3, and Cheboygan edged Kingsford, 3-2, on a walk-off wild pitch in the seventh inning.

The Eskymos and Chiefs played a fast-paced game, with good pitching by Kamin for Escanaba and Caleb Williams for Cheboygan.

Kamin struck out the side in the first inning, and after giving up a leadoff single to James Bur in the second inning, the Chiefs did not get another base hit off of Kamin.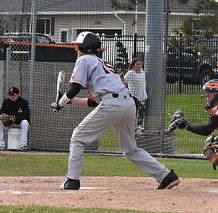 The game was still scoreless in the fifth inning when Kamin struck out Sam Schneider, but the ball got away from the catcher, putting Schneider on second base. With two out, Connor McMullen hit one toward the left field corner, but Jake LaFave raced to the ball and caught it with a full-out dive, saving a hit and a potentional Chiefs run.

In the bottom of the sixth inning, Escanaba turned to "small ball" and their speed to break through against relief pitcher Jake Stempky.

Maki led off by beating out an infield single, then Maki stole second.

Kamin followed with a bunt single, then LaMarche put down an excellent suicide squeeze bunt, with Maki scoring on an error and Kamin scoring on the hit.

LaMarche would score on a passed ball to make it 3-0, and Lawson was safe on another Cheboygan error, with Josh Bruntjens coming home. Maki came to bat for the second time that inning and another error on his grounder plated two more runs.

That was more than enough offense for Kamin, who quickly retired the Chiefs in the seventh inning, snaring the final out himself. He allowed just three baserunners the entire game, and struck out nine batters.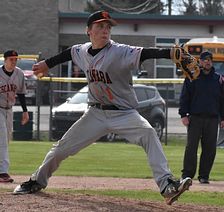 Williams got a no-decision for Cheboygan, throwing four innings of two-hit ball. Stepmky took the loss, yielding all six runs (three earned) in 1 2/3 innings.

Escanaba improved to 11-9 on the season and will host Gladstone in a make-up game on Monday. The JV game is set for 4:00, with the varsity game to follow between 6:30 and 7:00, after Parents Night is celebrated between games.

The varsity game will e broadcast on WCHT-AM (NewsTalk 600) and on-line at www.rrnsports.com.

Click the thumbnails in the ARTICLE HIGHLIGHTS box above to see photos and video clips, and listen to post-game comments from LaFave, Kamin, and Eskymo Manager Scott Hanson.