Braves Sweep Menominee; Stay Undefeated In GNC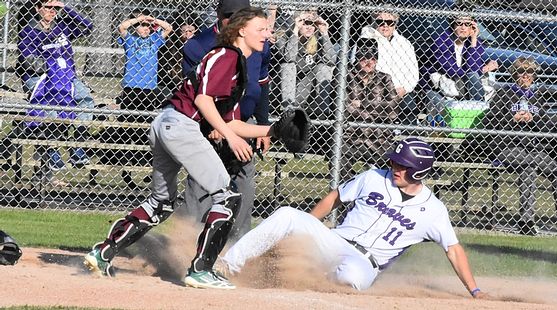 GLADSTONE---The Gladstone Braves baseball team stayed undefeated in Great Northern Conference play with a pair of wins on Monday over the Menominee Maroons, 4-2 and 13-3, at Don Olsen Field. The Braves swept the season series from the Maroons, but the first game required a come-from-behind effort to secure the victory.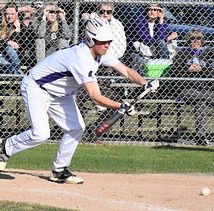 In the first game, the Braves allowed just one base hit, but errors cost them single runs in both the third and fifth innings. But Gladstone pulled through with a pair of runs in both the fourth and fifth innings to back up pitcher Riley Baldovski.

Cody Frappier led off the fourth inning with a single, then Cole Hansen doubled to put two on. Ian Schwalbach hit a sacrafice fly to tie the game, then Baldovski helped his own cause with an RBI single to give Gladstone a 2-1 lead.

That was shortlived, however, as the Maroons tied the game in the top of the fifth.

An error and a walk put two men on, then Christian Creten came through with a solid two-run single to put the Braves ahead, 4-2.

Baldovski hit a batter in the top of the sixth, but he got the last out to preserve the win.

There was no suspence in the nightcap as the Braves scored three runs in the first inning on RBI singles by Cooper Cavadeas, Schwalbach, and Jared Crow.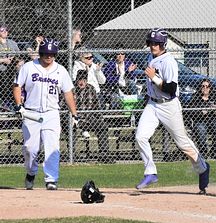 Then in the third inning, Gladstone scored ten runs to put it away. Drake Forrest drove in two runs with a single, then Zach Hanson doubled in two runs. Then Carson Shea singled in two runs. Menominee scored three runs in the fourth inning, but the game ended on the ten-run mercy rule after that.

Caden Alworden pitched the first three innings, giving up no runs on two hits. Ben Kelly threw the final inning, allowing three runs on two hits and two walks.

Gladstone improved to 17-6 on the season, 8-0 in the Great Northern Conference.

The Braves will travel to Negaunee for an out-of-league doubleheader on Wednesday. Game time is 4:00. It will be broadcast live on WCHT-AM (NewsTalk 600).

Click the thumbnails in the ARTICLE HIGHLIGHTS box above to see photos and videos taken by Nate Belleville.