DOUBLE PAYBACK: Gladstone Sweeps Negaunee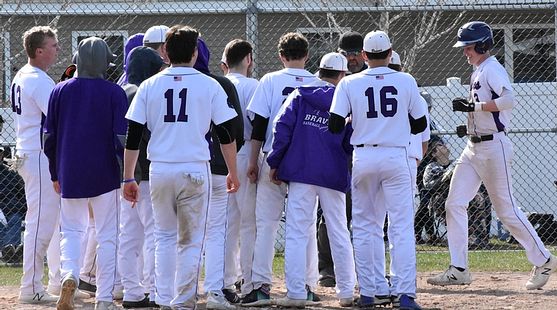 NEGAUNEE---The Gladstone Braves baseball team got revenge for a pair of earlier losses to the Negaunee Miners on Wednesday with two lopsided victories, 14-2 and 11-2, at Negaunee's IronTown Field.

The Braves lost two games in Gladstone to Negaunee, 5-2 and 6-5, on April 24th. But this time, it was a much different story as the Braves jumped on Negaunee starting pitcher Tanner Peterson. The Miners defense sprug a leak, as well, with four defensive errors.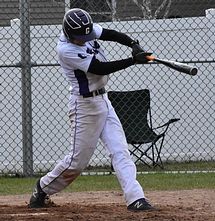 Carson Shea led off with a single, and eventually scored on an Ian Schwalbach sacrafice fly.

Then Cooper Cavadeas doubled and scored on a single by Drake Forrest.

Negaunee got to within 2-1 in the second inning when Alex Munson led off with a walk, stole secondm and scored on a hit by Jason Waterman.

Gladstone pitcher Cam Kelly, called up from the junior varsity team for this start, got into some trouble as Adam Ogea singled and Peterson walked to load the bases.

Gerald Johnson hit a shallow fly ball to right field that was caught by Cooper Cavadeas, and the Braves got out of the inning when the runner on second base broke for third while the runner on third base was held up.

The Braves stranded two base runners in the second inning, but Forrest got a two-out single in the third inning. He stole second and scored on a Cody Frappier single.

Gladstone added two runs in the fourth inning by playing small ball. Doby Gillis got a bunt single to start the inning, then Jared Crow bunted him to second. Caden Alwrden was safe on an error, then Shea's unt single scored a run.


A Dan Martin grounder made it 5-1.

Negaunee got one back when Aled Munson smacked a double down the left field line to lead off the fourth inning, then Kelly walked the next two men he faced. That brought Zach Hanson in to pitch, and he got three straight outs with the bases loaded, with the only run of the inning coming in on a bad throw by Gills from behind the plate.

Gladstone blew the game open with nine runs in the top of the fifth inning. Frappier had an RBI double to left field, then Crow poked a two-run double past a diving right fielder, to make it 7-2.

Shea followed with his third hit of the game to drive home another run, then a walk and an error scored two more runs.

With the score 10-2, Cavadeas singled home two more runs to make it 12-2. Then Forrest got the icing on the cake with a two-run homer to left field.

Polly came on to retire the Miners with two strikeouts in the fifth inning.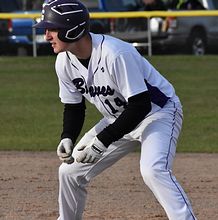 Gladstone pounded out 15 hits against two Negaunee pitchers.

In the second game, the Negaunee defense continued to struggle, with six more errors leading to five unearned runs, and the Gladstone bats kept hitting the ball.

Schwalbach had two hits and scored two runs in that second game. Christian Creten had an RBI double in the fourth inning, Dan Martin had an RBI double in the third inning, and Frappier added an RBI single in that inning.

Polley threw the first 2 1/3 innings, allowing both Negaunee runs, on two hits and four walks. The Miner runs came in the third inning after Logan Fish crushed a leadoff double down the left field line and scored on a groundout by Carter Richardson.

A second run scored on a Braves error, closing the Gladstone lead to 6-2.

Polley was replaced by Crow on the mound, and Crow got out of that jam before he easily mowed down the Miners in the next two innings. Crow struck out eight batters in three innings of work before Forrest replaced him in the sixth inning due to pitch count.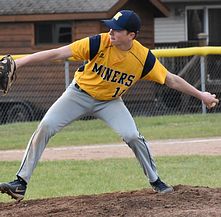 Munson took the loss for Negaunee, allowing eight runs (four earned) on six hits in three innings of work. Gerald Johnson pitched two innings in relief before Hunter Haanpaa finished up by pitching the sixth inning.

Gladstone improved to 19-6 on the season while Negaunee fell to 12-6.

The Braves continue a busy stretch with a third doubleheader in as many days on Thursday, when the Peshtigo Bulldogs come to town from Wisconsin. Game time is set for 4:00. Gladstone hosts Marquette for two more games on Friday.

Click the thumbnails in the ARTICLE HIGHLIGHTS box above to see photos and videos. Also click the AUDIO buttons to hear post-game interviews with Forrest and Frappier.