SENIORS SHINE: Eskymos Take 2 From Maroons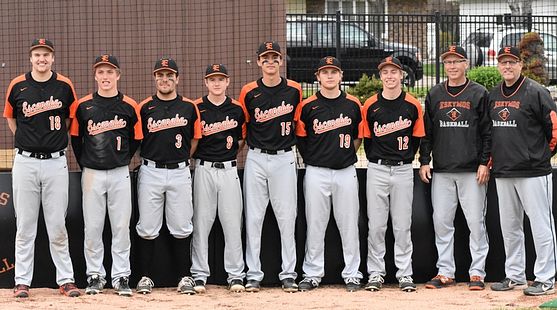 ESCANABA---The Escanaba High School baseball team won both ends of a doubleheader Tuesday evening, sweeping the Menominee Maroons, 9-0 and 7-1, on Senior Night at Al Ness Field.

The Eskymos honored their senior class during on-field presentations between games, and the seniors played a big part of the team's success in both games.


Craig Kamin continued his hot hitting with a double and a run batted in in the first game.

Austin Willette threw all seven innings of the nightcap, allowing just two base hits and striking out seven batters. He also had a hit in both games. Zeke Strand had a two-run single in the second game. He also had a hit and scored a run in the opener. Jake Anderson had RBI singles in both games. Grant LaMarche was 2-for-2 with two runs batted in and scored two runs in the opener'

And Terence Hirn got his most extensive playing time of the season, and contributed a nice running catch in left field during Game #2.

Underclassmen also chipped in, as Tyler Lawson had two hits and drove in two runs in the first game. Collin Arnt and Drew Rodman both had a hit and drove in a run in the opener, and Bryant Maki scored twice. Freshman Jared Hanson pitched a complete game four-hitter in the first game, striking out seven Maroons and walking two.

Menominee pitchers Keagan Monroe and Buddy Beyer combined to allow nine runs in the first game, with five of the runs earned. The young Maroons made four errors in the field. Dante Sartorelli went 3 1/3 innings in the nightcap, allowing five runs (four earned) on three base hits. Lanten Berger finished up, allowing two runs on two hits.

Zach Starzynski had the team's only RBI of the night, bringing home Billy Bailey,

Escanaba improved to 17-11 on the season and the Eskymos have now won six straight games. The Eskymos finish the regular season Saturday afternoon with a home game against Iron Mountain. Game time is 1:00 ET.

Click the thumbnails in the ARTICLE HIGHLIGHTS box above to see photos and video clips.