CLEAN SWEEP: Braves Wrap Up Conference Title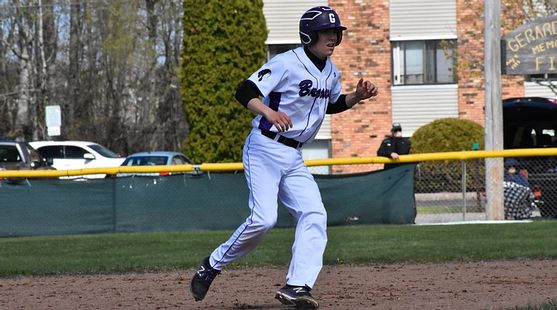 MARQUETTE---The Gladstone High School baseball team wrapped up an undefeated Great Northern Conference season Thursday, beating the Marquette Redmen, 3-0 and 22-4, in Marquette. The Braves put the finishing touches on a perfect 11-0 record in the first season of the GNC baseball conference (one game against Kingsford was not played).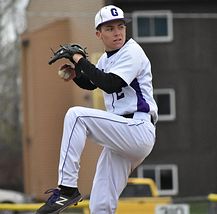 Earlier in the day, Gladstone pitcher Carson Shea signed a National Letter of Intent to play baseball for Bay College. Fellow pitcher Jared Crow will sign his letter on Friday.

"It's always been my dream to, after high school, to play baseball somewhere," Shea said. "It was a little emotional today, with my parents and everything. It's my life, and it's definitely a good feeling."

"To be able to continue to play baseball, the sport that I love, has always been a goal I set for myself," Crow said. "I'm excited to have Carson as a teammate and to play at Bay."

Zach Hanson scattered seven hits for the six-inning shutout in the opener. And it was Crow who brought in the go-ahead run in the fourth inning when he popped up a two-out bunt attempt. It landed on the infield, Cody Frappier scored, as Crow beat the throw.

Cole Hansen followed with an RBI single to make it 2-0, then Cooper Cavadeas got his third hjt of the game in the sixth inning to add an insurance run.

The second game was not pretty for Marquette, as starting pitcher Blake Henriksen did not survive the first inning. He gave up seven runs, and it got worse from there for the Redmen, as they made eight errors and the Braves pounded out 17 base hits.


Dan Martin was 3-for-3 and scored four runs, and drove in two late in the game. Cavadeas wrapped up an outstanding day by getting two more hits and two more runs batted in.

Ian Schwalbach had two hits and three RBI, and Cole Hansen wass 3-for-4 with two runs batted in. Caden Alworden also drove in three runs.

Shea pitched three innings, separated by long stretches where he sat the bench while his teammates batted. The Braves sent 20 batters to the plate in the first two innings.

Shea gave up two runs, and Crow was charged with two runs in his one inning of relief.

Marquette fell to 8-14 on the season, 3-6 in the GNC. The Redmen have a make-up doubleheader next Tuesday in Menominee against the Maroons.

Gladstone improved to 24-6 on the season, 11-0 in the GNC. The Braves close the regular season on Friday at home as powerhouse Green Bay Preble comes to town. The Hornets sport two pitchers who have committed to NCAA-I schools: Vanderbilt and Clemson.

Click the thumbnails in the ARTICLE HIGHLIGHTS above to see photos and videos, and hear post-game comments from Shea and Crow.