REGULAR SEASON FINALE: Hornets Stop Braves

GLADSTONE---The Gladstone Braves wrapped up the baseball regular season Friday by hosting the fifth-ranked team in Wisconsin, the Green Bay Preble Hornets.

The Hornets left town with a 7-1 win.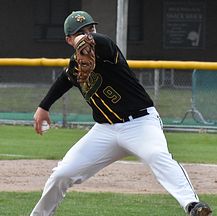 Preble has a lineup that boasts two players who have committed to play at NCAA Division One universities. Junior pitcher Ryan Stefiuk has agreed to attend Vanderbilt University, while junior hurler Max Wagner has committed to Clemson University.

Stefiuk did not play Friday, other than a pinch-hitting appearance late the the game. But Wagner did, and was big both on the mound and at the plate.

He threw a three-hitter, striking out nine batters and walking two, in 5 1/3 innings of work.

Wagner helped his own cause with an RBI double in the first inning, and a two-run homer to center field in the third inning.

Josh Williams added a pair of RBI singles, while Zach Renier and Bryce Miller each had contrbuted RBI doubles for the Hornets, who improved to 21-3 on the season.

Gladstone got a two-out double from Crason Shea in the third inning, but couldn't bring him home. Drake Forrest drew a one-out walk in the fourth, but was stranded.

Caden Alworden smacked a single up the middle and Shea walked with two out in the fifth to give Gladstone its best scoring chance, but Zach Hanson flew out to end the inning.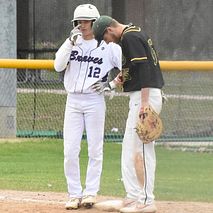 Finally, in the sixth inning, Dan Martin put the Braves on the board with a long home run over the right field fence. But that was all they could muster on offense,

Jared Crow took the loss on the mound, allowing six runs (five earned) on six hits and four walks, in five innings. His highlight was picking off a base runner at second base in the second inning, and the Braves turned an unconventional 2-4 double play on a botched suicide squeeze attempt.

Forrest pitched the final two innings, and was charged with a run on two hits.

Gladstone finished the regular season with a 24-7 record. The Braves host Newberry in the district semifinals on Saturday, June 1, at 10 a.m.

Click the thumbnails in the ARTICLE HIGHLIGHTS box above to see photos and videos taken by Brad Landis, and hear Martin's post-game comments.