ONE UP, ONE DOWN: Escanaba Tops Cheboygan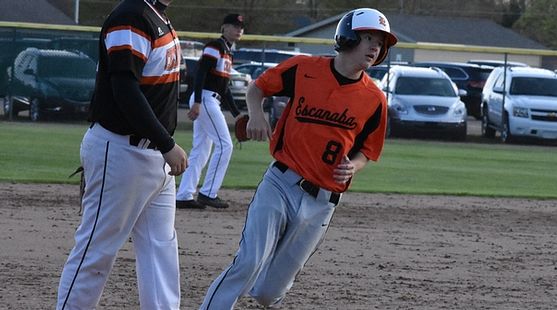 ESCANABA---Craig Kamin came within one out of pitching a complete game, and Noah Lancour had two run-scoring hits as the Escanbaa Eskymos beat the Cheboygan Chiefs, 8-2, in the district tournament opener, Tuesday night in Escanaba.


Kamin, who threw a one-hitter in a 6-0 win over Cheboygan earlier this season, had a wicked curveball and an effectove fastball as he used 106 pitches before having to leave with two out in the seventh inning. Grant LaMarche finished up.

Lancour, batting in the #9 spot, came through with an RBI single in the second inning to put the Eskymos in front. Later, Lancour smoked an RBI double in the sixth inning as pasrt of a five-run inning that turned a 3-2 game into an 8-2 contest.

Jake LaFave had a two-run single through a drawn-in infield in the third inning to help the Eskymos take a 3-0 lead.

But the Chiefs (16-12) loaded the bases with no out in rge bottom of the third, as Sam Schneider dribbled a base hit to left field, Kamin walked Connor McMullen, and Robert Bruce got Cheboygan's second hit of the inning.

Kamin then hit Tyler Smith with the bases loaded to bring home the first run.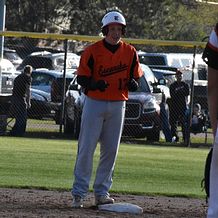 Kamin, however, recovered, getting a fly ball from Jake Stempky and a pair of ground outs. Kamin allowed two more hits in the bottom of the sixth inning, but struck out the final two batters of the inning to stop the Chiefs comeback effort.

Issac Chase pitched well for Cheboygan, but the Eskymos finally got to him in the sixth inning for six base hits and five runs.

Besides Lancour's RBI double, Bryant Maki had a run-scoring double, Collin Arnt had an RBI single, and Kamin helped his own cause with a two-run double.

The icing on the cake was Grant LaMarche's long fly ball ro right field that went to the fence when the two outfielders collided.

LaMarche motored around to third base with an RBI triple.

Kamin struck out eleven batters, walked one, and hit three batters.

Escanaba improved to 18-11 on the season.

In the first game on Tuesday, Petoskey mercied Kingsford, 12-1, in six innings. Nethaniel Eberly-Rodriguez had two singels, a double, and two runs batted in. Timothy Lake had a two-run single, and Owen DeGroot had two hits and scored a pair of runs.

Escanaba faces Marquette in the district semifinals on Saturday at 2:30. The first game, at noon, will pit Petoskey and Sault Ste. Marie.

Click the thumbnails in the ARTICLE HIGHLIGHTS box above to see photos and videos taken by Johnny Schlenvogt. Also, see post-game interviews with Jake Anderson and Noah Lancour.