TITLE DEFENSE CONTINUES: Eskymos Win Two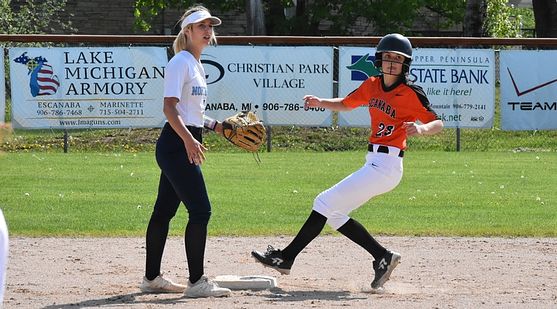 ESCANABA---The Escanaba Eskymos softball team continued their defense of last year's state championship by winning twice on Saturday to take the Division Two district title at Lemmerand Park.

Escanaba blanked Kingsford, 6-0, then beat Petoskey, 7-1, in the championship game. That after Petoskey eliminated Sault Ste. Marie, 10-2, in the other semifinal.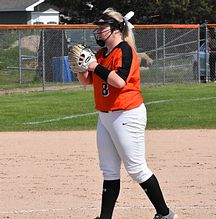 Gabi Salo threw a one-hitter against Kingsford, striking out 15 batters in seven innings of work. She walked one batter, and she drove in a run at the plate.

Lexi Chaillier had a single and a double, scored twice, and drove in a run, while Dakota Cloutier was 2-for-3 with a walk and an RBI.

Maddy Block also had an RBI single and scored a run.

Escanaba jumped to a 3-0 lead in the first inning and led, 5-0, after two innings.

In the championship game against the Northmen, Salo threw another one-hitter, striking out eleven batters and walking one.

The Eskymos again jumped to a 3-0 lead in the first inning and after the Northmen scored in the top of the fourth, Escanaba put the game away with four runs in the bottom of the fourth inning, Cloutier had two more hits and another walk, while Salo helped her own cause with a double and a run batted in. Chailler walked, got a hit, and scored twice.

McKenna Bullen added an RBI hit and Carsyn Segorski walked three times.

Escanaba improvef to 29-3 on the season, and the Eskymos advance to the regional tournament next Saturday in Petoskey. The Eskymos will face Remus Chippewa Hills in the second semifinal at noon. West Branch Ogemaw Heights a Muskegon-area team in the first semifinal. That district in Muskegon was rained out in Saturday.

Click the thumbnails in the ARTICLE HIGHLIGHTS box above to see photos, videos from the championship game taken by Johnny Schlenvogt.