NEVER SAY DIE: Gladstone Rallies Into Final Four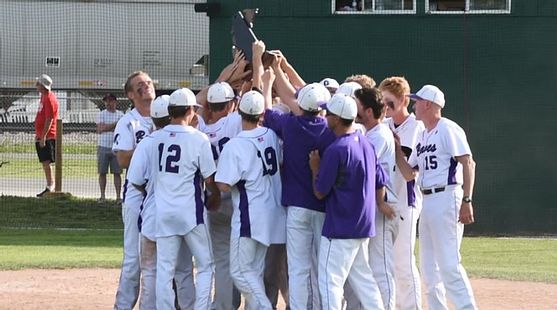 CLARE---Never say die. Never give up. Anything can happen. Don't stop believing.
Those are some of the oldest clichés in sports.

But those words all proved to be true numerous times on Saturday as the Gladstone Braves and Beaverton Beavers battled in the MHSAA Division Three super regional championship game at Clare High School.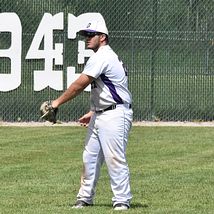 The Braves seemingly beat themselves into a hole that was too deep to dig out of, falling behind 6-2, entering the final inning, thanks to ten walks and four errors.

But somehow, some way, the Braves managed to rally and force extra innings, and then after missing out on a golden opportunity to win in the eighth inning, Gladstone pulled out an emotional 7-6 victory in nine innings.

The improbable win, sealed by a Zach Hanson walk-off hit with the bases loaded in the bottom of the ninth inning, sent the Braves back to Michigan State University for the state semifinals.

"This is just crazy," Hanson said. "We thought we were down for a while, but we all did whatever we could to keep our heads up and we fought back. A lot of things were going wrong. I got up there, and Coach said he just wanted me to hit the ball, and that we weren't going to bunt or suicide or anything like that. He said to get the ball to the outfield. I told him 'I got you 100-percent'. And that's what I did."

Carson Shea pitched his heart out, throwing a complete game against Boyne CIty (after throwing one Wednesday against Negaunee), and then throwing 3 1/3 innings in relief in the championship game before reaching his pitch limit.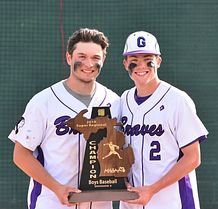 "I could go another ten innings if I wanted to," Shea said. "I was just out there trying to throw strikes and work my butt off, just trying to get outs, and luckily, it worked out today. I'm kind of at a loss for words right now."

"I just had to throw strikes. This is just so much fun. Nothing beats this. I'm just so glad to do it with this team."

"This even beats last year. I mean, we were down four runs in the last inning, and we fought back."

Before Hanson smoked the first pitch he saw into the right-center-field gap, scoring Cooper Cavadeas with the winning run, it looked like the Braves would be kicking themselves all the way home to Gladstone.

The Braves had already survived a tight game earlier in the day, a 2-1 win over Boyne City, and the Beavers did the same, with an eight-inning, 3-2 win over Evart.

Those results gave both teams a regional championship trophy under the new MHSAA playoff format, which eliminated the quarterfinal round. But an even bigger trophy was on the line in the super regional final.


The Gladstone-Beaverton game started off well enough for the Braves, as Cody Frappier singled home one run and Christian Creten brought in another with a ground ball. But the Braves, despite never having a 1-2-3 inning all afternoon, could not score again, until it was almost too late.

Gladstone starting pitcher Jared Crow got through the first two innings unscathed, but the third inning was trouble, as he missed with ten of his first eleven pitches.

A stolen base and a wild pitch didn't help, and then Trent Reed smacked a two-run single to tie the game at 2-2.

The fifth and sixth innings were disasterous for the Braves, with Hanson walking three men in the fifth inning and a pair of errors gave the Beavers two runs on no hits. Lucas Schweinburg hit a sacrifice during that rally, and then in the sixth inning, Hanson walked three more batters, and the Braves committed an error on a tailor-made double play ball up the middle.

Shea came on in relief to pitch, giving him an appearance for a third consecutive game. He threw 66 pitches in a regional semifinal win over Negaunee, and earlier on Saturday, threw 67 pitches in the win over Boyne City. Under pitching rules, Shea still had 38 pitches to work with if he was needed in the Beaverton game.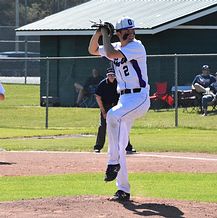 He was needed.

In the bottom of the sixth, Gladstone tried to rally as Riley Baldovski beat out an infield hit and Cam Kelly came off the bench and drew a walk. Shea followed with a shot up the right center field gap that would have scored two runs, but center fielder David Krohn dove and made a tumbling catch. Then Drake Forrest also flew out, and the threat was over.

Shea gave up one hit in the seventh inning, but got out of any further trouble, sending the Braves into the bottom of the seventh, trailing, 6-2.

Hanson beat out an infield hit to start the inning, then Dan Martin smoked a double to put two men on. Frappier drew a walk, loading the baes. Creten grounded into a force play for the first out, then a Schwalbach ground out brought in a run to make it 6-3.

It looked like that would be the final score when Hansen hot a ground ball to short. All the fielder had to do was get the ball and under hand it to second base for a force play. But he bobbled the ball. Then he bobbled it again.

A run scored on the play, and it was 6-4.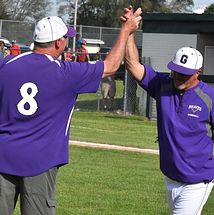 Cavadeas was knicked by a pitch to load the bases, then Shea pushed one past the second baseman, who deflected it but could not make a play. The base hit brought in two runs, tying the game at 6-6.

Forrest popped up to end the inning, but Gladstone had new life.

In the top of the eighth, Shea gave up a one-out single, but got a fly out and a called third strike on a 3-2 pitch to get him out of the inning. And in the bottom of the eighth, it looked again like the Braves would surely get the win.

Hanson led off the eighth with a solid base hit to the outfield, then Martin put down a bunt, and was safe at first. With two men on, Frappier also bunted, and the Braves thought he had reached safely as the first baseman appeared to pull his foot. The umpires conferred, and Frappier was ruled out.

With runners at second and third, Creten was intentionally walked to load the bases. Ian Schwalbach worked the count to 3-2, but struck out for the second out of the inning. Then Hansen flew out to left field, and the Braves left the bases loaded.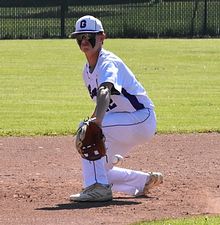 Shea had just a handful of pitches remaining for the ninth inning. He managed to get two ground balls to Hanson at short, with the second one hitting him in the chest before he recovered in time to beat the runner by a half-step.

Shea finally reached the end of his pitching rope, and Crow was brought back in to pitch. He walked the first man he faced, but got a swinging third strike to end the inning.

In the bottom of the ninth, Beaverton was on its fourth pitcher of the game (Reed), and he threw a pitch behind Cavadeas that hit him to start the inning.

Then Crow tried to bunt twice, but fouled them off both times. He made amends by smacking a base hit to center field. Forrest put down a perfect bunt right in front of the plate, and he reached safely for a base hit that loaded the bases.

This time, the Beavers would not wiggle off the hook. Hanson smacked the first pitch he saw into right-center field. He pumped his fist as he raced around second and Cavadaeas scored the winning run.

"We got there last year, and from the beginning of the season, we weren't thinking about winning any regional, we just wanted to get to get back Michigan State," Hanson said. "That was the goal we were all shooting for. And we're going back."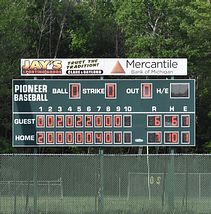 "We never gave up," Carson Shea said. "I'm just so happy for Zach. He works his butt off in practice, and he finally had his moment, and I'm just so happy right now. Nothing could bring me down."

Beaverton (31-6) got two hits and a walk from Reed, and Nathan Longstreth walked four times and scored three of his team's runs.

Gladstone got four hits from Hanson and two hits from Martin.

Crow picked up the pitching win in relief of a game he started.

GLADSTONE 2, BOYNE CITY 1---Cole Hansen drove in both of Gladstone's runs in a tense game that determined the regional championship. His first RBI came with two out in the second inning, bringing home Ryan Polley, who was running for Frappier (who doubled with one out in that inning).

Stephen Orban singled home a run for the Ramblers (31-4) in the third inning, and it stayed 1-1 until the bottom of the sixth, when Hansen got another two-out single, this time, bringing home Frappier. Shea did the rest, shutting down the Boyne City offense on five base hits. Schwalbach walked three times for the Braves, and Frappier was on base all three at-bats with two hits and an error.

Gladstone (29-7) advances to the state semifinals on Friday against Grosse Pointe Woods University Liggett (23-8) . Game time is 11:30 ET. It will be broadcast on WCHT-AM (NewsTalk 600) and www.rrnsports.com, starting after the 11:00 news.

Click the thumbnails in the ARTICLE HIGHLIGHTS box above to see photos and videos taken by Brad Landis. Also, click the AUDIO buttons to hear radio replays from the games, and interviews with Hanson, Hansen, and Kelly and Carson Shea.