RETURN TO MSU: Salo, Eskymos Outlast Freeland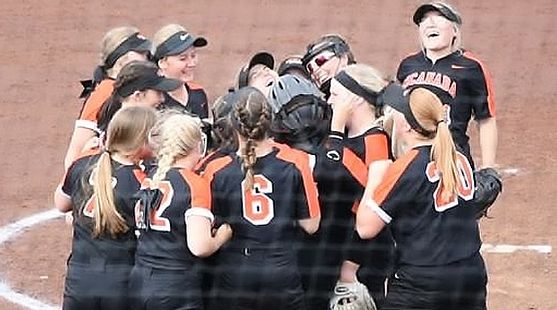 MT. PLEASANT---Survive and advance.

That's the best way to describe tournament time, and it's the best way to describe the Escanaba high school softball team's effort to repeat as state champions.

The Eskymos played flawless defense and got strong pitching (and hitting) from Gabi Salo, and beat the Freeland Falcons, 2-0, in the MHSAA Division Two state quarterfinal game Tuesday at Central Michigan University.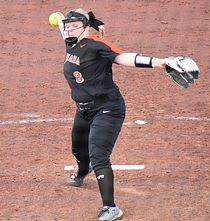 Salo threw a complete-game one-hitter, and struck out five batters as the Falcons hitters made contact all day long. But the Eskymo defense made all of the plays, including three time when the Falcons had the go-ahead run in scoring position while it was still a 0-0 game.

In fact, it was 0-0 all the way until the sixth inning, when Nicole Kamin led off the inning and stole second. With one out, Salo clubbed a 1-2 pitch over the center fielder's outstretched glove, scoring Kamin with the first run.

Escanaba's second run came moments later when Jalin OIson's ground ball was fielded fine, but the throw was airmailed over the first baseman's head for an error. That's all the offense Salo, and the rest of the Eskymos, would need.

The only hit for Freeland came in the top of the sixth when Leiya Rybicki led off with a single to right-center field. She was stranded at second base.

Earlier, the Falcons had their big chance in the first inning when Salo hit leadoff batter Cam Coonan with a pitch. She went to second on a wild pitch and stole third on a strikeout. Unfortunately for the Falcons, she overslid the bag at third and was tagged out on the play.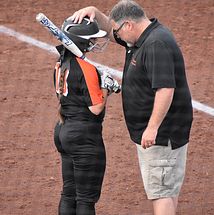 Escanaba had five hits in the game off Freeland pitcher Cat Talaga. Lexi Chaillier led off the game with a single, but after she was bunted to second, two strikeouts stranded her. Heather Bergstrom had a one-out single in the second, but a strikeout and groundout ended that scoring chance.

Escanaba got a two-out single from Carsyn Segorski in the fifth inning, but Chaillier flew out to end that threat, keeping it a 0-0 game until the sixth inning rally.

Escanaba improved to 32-3 on the season, while Freeland fell to 32-9.

The Eskymos will face the North Branch Broncos in the state semifinals on Thursday at Michigan State University. Game time is 12:30. The game will be broadcast live on WCHT-AM (NewsTalk 600) and www.rrnsports.com, at 12:07 Eastern time.

Click the thumbnails in the ARTICLE HIGHLIGHTS box above to see photos and videos, and hear post-game comments from Salo, Block, Kamin, and Coach Gary Salo. Also listen to a replay of the bottom of the sixth inning.