UP High School All-Star Football Game Is Saturday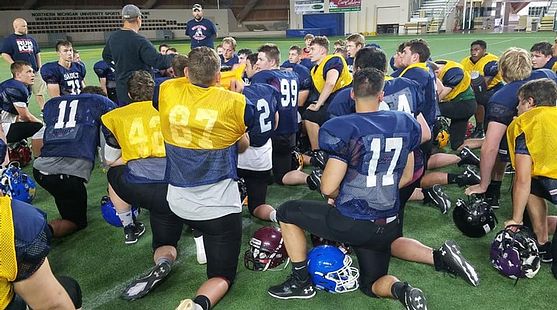 The U.P. Football All-Star Game has finalized the schedule and players for this year's event. 2019 marks the 12th anniversary of the U.P. summer football classic.

This year, the players selected as all-stars were again drafted by the coaches, just like NFL fantasy football leagues and are either on the Red Team or the Black Team. What started as novelty for the 10th anniversary, the draft was very well-received and the coaches wished to have the draft this year as well. The draft was held in March at Buffalo Wild Wings in Marquette.
The draft took place on Saturday, March 16th at Buffalo Wild Wings in Marquette and was a very spirited event for everyone in attendance, coaches, players and media. The picks were also reported live on social media for all who want to follow the progress. The coaches from both teams were in attendance and did extensive research of all players, so they could put together the best team possible that fits their offensive and defensive schemes. Having the players "mixed" by the draft means not only will players be competing against traditional rivals from other schools, they might also be competing against players from their own school.
The game will be played in Marquette at the Superior Dome, on Saturday, June 29, 2019. Game time is set for 1 PM, with the doors opening at noon. Many activities are planned throughout the week for the players and coaches.

Friday evening, June 28, is the All-Star Banquet. The banquet provides family and friends a chance to connect with the All-Star players after a long week of practice and activities. It is formal for the players, and they must take turns standing in front of everyone, introducing their roommate for the week, and telling everyone some things about their roommate. Players also get recognized for their accomplishments during the Skills Challenge and receive their All-Star Rings.

The guest speaker will be Jeff Olson, who just finished his last season at Ishpeming, where he brought the Hematites several State Championships over his tenure. It is sure to be an emotionally charged evening for everyone in attendance.

The U.P. Football All-Star Game will also be donating proceeds to the following U.P. charities: Beacon House, The U.P. Sports Hall of Fame, as well as Brimley, Negaunee and North Dickinson High Schools. A lottery drawing was performed to select the two schools, and donations will be made directly to the football program of those schools chosen. Each year, new schools will be chosen until all U.P. schools have received benefits from the game. Several other schools (Sault Ste Marie, Brimley, Manistique and Westwood) will also receive donations in the form of All-Star Game equipment, including the practice jerseys and footballs.
BLACK TEAM ALL-STAR PLAYERS
First
Last
School
Kyle
Anderson
Menominee
Tyler
Beauchamp
Kingsford
Ashton
Bergman
Westwood
Andrew
Blanchard
Engadine
Bryce
Brazeau
Marquette
Collin
Broemer
Gogebic
Alex
Cannoot
Marquette
Eddy
Chapman
Gwinn
Brandon
Christensen
Newberry
Christian
Creten
Gladstone
Brendin
Cryderman
Sault
Reid
DeLaurelle
Stephenson
Chase
Fisher
Cedarville
Cole
Galeazzi
Kingsford
Sam
Gilles
Westwood
Montell
Glover
Stephenson
Blake
Hewitt
Westwood
Hal
Hoenig
Forest Park
Justin
Hood
Iron Mountain
Tate
Kay
Sault
Brent
Lundquist
Rapid River
Hayden
Mann
Westwood
Brandon
Martens
Norway
Ethan
Martysz
Marquette
Lenny
Menary
Rapid River
Sam
Orth
Rapid River
Gregory
Paquin
St. Ignace
Caden
Pellizzer
West Iron County
Jacob
Peterson
Forest Park
Eddy
Polakowski
Ontonagon
Mason
Schieding
Munising
Willy
Schmitt
Bark River-Harris
Drake
Sundberg
Ishpeming
Gavin
Sundberg
Ishpeming
Luke
Terrian
Kingsford
Matthew
Trawick
Ishpeming
Brayden
Velmer
Negaunee
Philip
Voss
Ontonagon
Reese
Waara
L'Anse
Caleb
Walters
North Central
Chase
Warner
Pickford
Alex
Zampese
Negaunee
Max
Zeeryp
Rudyard
BLACK TEAM ALL-STAR COACHES
Scott
Syrjala
Westwood
Brad
Wiljanen
Westwood
Chad
Hewitt
Westwood
Jake
Wolf
Westwood
Scott
Mann
Westwood
Jeff
Olson
Ishpeming
George
Niemi
Ishpeming
Kyle
Rundman
Ishpeming
RED TEAM ALL-STAR PLAYERS
First
Last
School
Seth
Aho
Gwinn
Peyton
Anderson
Negaunee
Nathan
Beckman
Westwood
Matthew
Bruette
North Dickinson
Christer
Carne
Escanaba
Brady
Eichmeier
North Central
Roubens
Fink
Superior Central
Charlie
Gerhard
Iron Mountain
Doby
Gillis
Gladstone
Noah
Groulx
Superior Central
Dalton
Hanchek
North Central
Trevor
Hendrickson
Calumet
Vince
Hughes
Gladstone
Josh
Iwanicki
Marquette
Craig
Kamin
Escanaba
Kellen
Klein
Lake Linden-Hubbell
Logan
Kruhlik
Ishpeming
Gunnar
Larson
Rapid River
Mitchell
LeGrave
Norway
Hunter
Lipponen
Brimley
Brent
Loukus
Calumet
Andrew
Mann
Kingsford
Dan
Martin
Gladstone
Jarron
Masuga
Cedarville
Anthony
Mattson
Munising
Jonah
Miller
Engadine
Devon
Nyman
Ishpeming
Matt
Ojala
Calumet
Travis
Ojala
Calumet
Nathan
Olson
Rapid River
Trevor
Povolo
Kingsford
Zachary
Powell
Norway
Devin
Racicot
Bark River-Harris
Beau
Rondeau
Superior Central
Cayne
Rowell
West Iron County
Shawn
Sandahl
Menominee
Brody
Sanville
Gladstone
Bryant
Schram
West Iron County
Hunter
Smith
Ishpeming
Tucker
Taylor
Gwinn
Noah
Tourangeau
Escanaba
Parker
Wilson
Gogebic
Beau
Zorza
Marquette
RED TEAM ALL-STAR COACHES
Cody
Kangas
Manistique
Garde
Kangas
Pickford
Tyler
Kangas
Manistique
Todd
Kangas
Manistique
Paul
Jacobson
Negaunee
Mike
Christian
North Dickinson
Mike
Berutti
West Iron County