Indians Cruise Past Pulaski; Cubs Fall To Marinette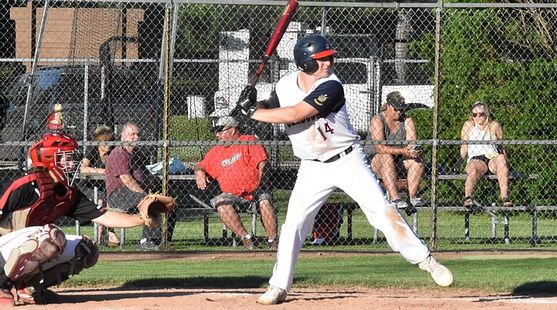 MARINETTE, Wis.---Jake Rogers threw 6 1/3 innings of three-hit ball to lead the Gladstone Indians to a 7-1 win over Pulaski (Wis.) Friday night at the Firecracker Tournament in Marinette.

In the late game, the Escanaba Cubs lost to the host Marinette team, 16-8.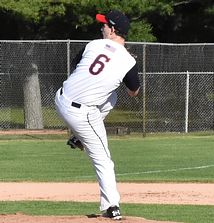 Rogers was staked to a 1-0 lead in the first inning when Caden Alworden singled home Parker Frappier with a solid-out hit.

In the bottom of the first, Pulaski got an infield hit, passed ball, and stolen base, putting the tying run on third with no out. Rogers got a strikeout and pop fly to get out of the inning.

The Indians added two runs in the second inning when Ben Kelly smacked a lead-off single and came home on an RBI triple by Carson Shea. Shea came around to score as an error was attached to the play, making it 3-0.


Pulaski took advantage of an error and two walks in the bottom of the third inning, with Easton CVertz getting a hard-hit RBI single. Rogets walked Zach Ascher to load the bases, but he got a called third strike to end the threat.

Gladstone scored three runs in the fourth inning, as Shea poked an RBI single to right field and Frappier walked with the bases loaded.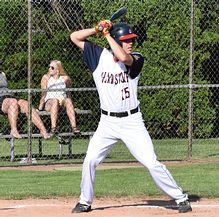 Shea ripped another base hit in the seventh inning, giving him a 4-for-5 night, with three runs batted in at the lead-off position. Kelly was the only other Indians player with more than one hit, and he scored three runs.

Rogers walked two men in the seventh inning on 3-2 pitches and ran into his 105-pitch limit. Frappier got the final two outs to end the game.

Rogers allowed three hits and four walks, striking out seven batters.

The only run against him was unearned.

Click the thumbnails above to see photos taken by Jarrett Lacosse, and hear post-game comments from Jake Rogers and Ben Kelly.

MARINETTE 16, ESCANABA 8---The late game on Friday was just that…late, as the final pitch wasn't thrown out until 10:38 CT, sending the Cubs back up M-35 for a late-night drive home.

The two teams combined for two dozen base hits, eight errors, multiple walks, and numerous at-bats that went to 3-2 counts.


Escanaba scored first on a sacrifice fly by Jake LaFave, but Marinette scored five runs in the bottom of the inning off starting pitcher Riley Lamb. Nick Teteak had an RBI single and Hunter Woulf drove in two runs with a single during that rally. It would have been worse for Escanaba but shortstop Hunter Lancour made a leaping catch of a line drive, turning it into a double play.

Escanaba scored five runs in the top of the second to take a 6-5 lead as Marinette's third baseman made two errors (he had four errors in the first two innings).


Lancour had an RBI hit, and the highlight was a bases-clearing double by Jake LaFave. He was thrown out trying to stretch it into a triple, however.

Marinette answered that rally with five runs in the bottom of the second inning, with Nolan Lemke and Wil Lalonde both getting a two-run doubles.

After two innings of play, the score was Marinette 10, Escanaba 6.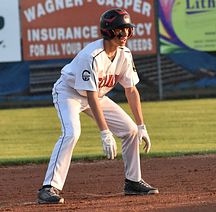 The Cubs went back to work in the top of the third inning as Conner Aiken led off with a booming double to the fence.

With two out, Jake Anderson singled him home, and after Lancour got his second straight hit, an error brought home the Cubs' eighth run. They stranded the bases loaded, however, and trailing, 10-8, the Cubs did not score again.

Escanaba ace pitcher Johnny Schlenvogt came on to throw in the middle innings, but was limited to 30 pitches so that he would be available to throw on Saturday.

He allowed a double to Jaden Werner, but retired the next five men he faced, before walking the #9 hitter Mason Riser.

Schlenvogt's brother, Brett, came in to pitch, and after giving up a hit and hitting a batter, got a deep fly ball to strand the bases loaded. So, it stayed a 10-8 ball game through four innings. Things went badly in the fifth, however.

Marinette batted around (again) scoring six runs against the younger Schlenvogt, and against reliever Zeke Strand. Woulf had an RBI double, Brandon Eick singled home a run, then after Cubs catcher Ayden Hansen made a great catch on a foul pop up, Riser singled home a run and Werner singled home two runs.

For Escanaba, Anderson ended up with three hits, and was on base all five times. Lancour and LaFave both had two hits, with LaFave bringing home four runs. The Cubs used a total of five pitchers, while Marinette used two. Reliever Woulff got the win as Marinette beat the Cubs for the second time in less than a week.

Both Escanaba and Gladstone play two more games on Saturday.

Click the thumbnails in the ARTICLE HIGHLIGHTS box above to see photos from the game.