Marquette Blues Roll; Escanaba, Menominee Lose

MARINETTE, Wis.---The Marquette Blues pounded Pulaski, 12-0, at the Firecracker Tournament on Sunday in Marinette, Wis., while the Escanaba Cubs and Menominee Red Wave were both mercied by their Wisconsin opponents.

The Blues scored four runs in the first inning and cruised to the win over Pulaski to finish the tournament with a 2-2 record.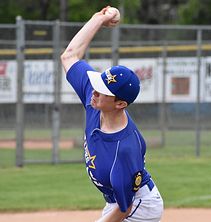 Marquette was shut out twice on Saturday in losses to Marinette and Manitowoc, but the Blues went to work right away against Pulaski pitcher Kendall Kaczowski.

Pete VandenAvond led off with a double, and Jakob Peterson followed with a single.

As he went into second base, the throw got away, and VandenAvond scored. Peterson came home on a wild pitch to make it 2-0, then Blake Henriksen walked.

Holden Shaneburger singled to put two men on, then Conner Steer's sacrifice fly made it 3-0.

Hogan Nemetz followed with an RBI double, and it was 4-0.

In the second inning, Jake Soucey doubled and scored on a ground ball by Peterson. After Henricksen doubled, Shaneburger's ground ball brought home Peterson to make it 6-0. Two more runs scored on an error, and it was 8-0 after two innings.

A bases loaded walk to Henriksen brought in a run in the third inning, then in the fourth, the Blues added three runs, with VandenAvond getting an RBI double to left field.


Vandenvond, Peterson, and Nemetz all had two hits in the game for Marquette.

Nemetz threw all five innings, allowing five hits and walking three batters.

Pulaski made six errors on defense and three pitchers combined to allow 12 runs (seven earned) on seven hits. Pulaski went 2-2 in the tourament.

Marquette (11-10 overall) finished 2-2 in the tournament, which was good for a three-way tie for third place. The Blues play in another tournament next weekend in Antigo, Wis.

MANITOWOC 10, ESCANABA 0---Manitowoc clinched the tournament championship with its fourth straight win over an under-staffed Cubs team.

Escanaba had just eight players until a ninth arrived in Marinette as the national anthem was being played, then starting catcher Ayden Hanson took one under his mask to the throat. He had to play the final four innings in right field as Jake LaFave took over.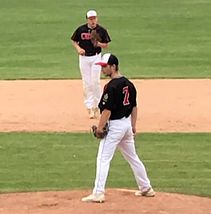 Escanaba had its ace pitcher, Johnny Schlenvogt on the mound, but the Cubs made five errors behind him as several players were playing out-of-position.

The Cubs' only base runners of the game came in the second inning, as Noah Lancour singled with one out and Austin Bourdeau was hit by a pitch. Manitowoc pitcher Joey Gallagher retired the final 14 batters he faced from there, and the game was called by the mercy rule in the sixth inning.

Schlenvogt went 3 2/3 innings and threw 75 pitches, giving up eight runs (three earned) on five base hits. Conner Aiken tossed the final 2 1/3 innings, giving up two runs on three hits and four walks.

Manitowoc's biggest hit was a three-run double by Trent Van Ess as part of a seven-run third inning that included three Escanaba errors.

The Cubs finished the tournament with a 1-3 record, and dropped to 1-9 overall for the season. Escanaba visits Gladstone on Wednesday for a 7:30 game. It will be broadcast on WCHT-AM (NewsTalk 600) and on-line at www.rrnsports.com.

GREEN BAY SHOCKERS 15, MENOMINEE 4---The Red Wave finished the tournament 1-3 after posting a dramatic 16-15 win over Marinette late Saturday night, but losing in a mercy-shortened game on Sunday.

Green Bay scored nine runs in the first inning to win its first game of the tournament and improve to 3-5 overall. Ben Navarre had three hits and scored three times. Liam Jones had three runs batted in and Kyle Zorn drove in two runs.

Trevor Olmstead threw all four innings to earn the win on the mound.

Click the thumbnails in the ARTICLE HIGHLIGHTS box above to see photos and video clips.