Gladstone Indians Celebrate State Titles; Beat Cubs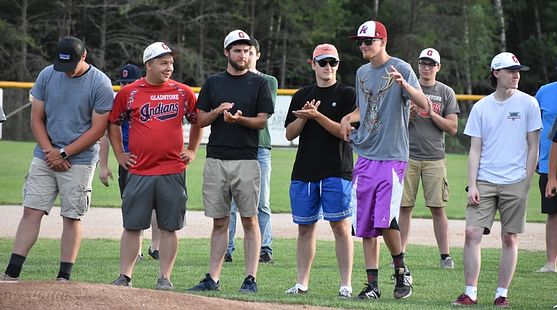 GLADSTONE---The Gladstone Indians welcomed home their 2014 state championship players and coaches, and honored the 2017 and 2018 champs, during a ceremony at Don Olsen Field. Then the Indians went out and mercied the Escanaba Cubs, 13-0.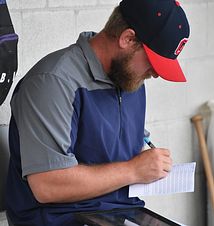 The team celebrated its championship teams in ceremonies as new signs commemorating the teams were unveiled on the field's press box, and members of all three teams were introduced.

The only man to play on all three of those teams, Braeden Lamberg, was on hand, and is an assistant coach on the current team.

Justin Jurek, who played on the 2014 team and was the manager of the 2017 and 2018 teams (as well as the current one) says it was a special night.

"It's been a cool experience, being a part of one and coaching two of them," Jurek said. "To have this ceremony going on and to get honored for the three teams, it's a good show for everyone, and good recognition for all the of the guys who played."

Among the 2014 players on hand were Elliot Danhoff, who's pitching at the University of Wisconsin-Superior, as well as former pitchers Hunter Garling, Christian Groleau, Christian Tackman.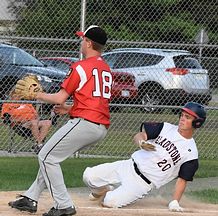 Also on hand: Hayden Hardwick, Graham Morrison, and Jack Stephenson, along with manager Jim Groleau and Coaches Rob Hardwick and Ron Schwalbach.

The Indians beat the Escanaba Cubs, 4-0, in that 2014 state championship game in downstate Gladwin, but Wednesday night's game was not nearly as close.

The Cubs went through four pitchers and gave up five runs in the first inning, three in the second, and five more runs in the third inning.

There were numerous walks, wild pitches, and hit-batsmen in the contest, with Escanaba hurler Riley Lamb unable to make it out of the first inning. Drew Rodman, Zach Tyler, and Brett Schlenvogt followed him to the mound.

Caden Alworden had a run-scoring hit in the first inning, Ben Kelly drove in a run with a double in the second, and Elijah Shiner and Ian Schwalbach had RBI singles in the third inning. Carson Shea added a sacrifice fly in the third.

Parker Frappier pitched all five innings to earn the shutout for Gladstone. He allowed just two base hits and walked three batters.

Johnny Schlenvogt and Jake Anderson had Escanaba's only hits.

Gladstone (6-3) travels to Antigo, Wis., for a tournament this weekend. The Indians will face Neenah on Friday, Ashwaubenon and Antigo on Saturday, and Marquette on Sunday. Escanaba (1-11) travels to Bark River on Friday. The game will be broadcast live on NewsTalk 600 and www.rrnsports.com.

Click the thumbnails in the ARTICLE HIGHLIGHTS box above to listen to the entire pre-game ceremony, and see photos and videos taken by Nate Belleville.