Menominee Turns Back Marinette In Holiday Duel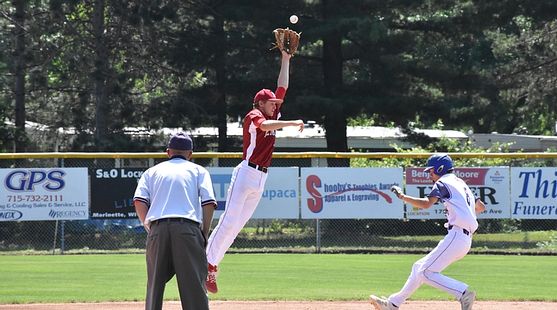 MARINETTE, Wis.---Alex Hanson pitched 6 1/3 innings of five-hit ball as the Menominee Red Wave topped Marinette, 3-1, in American Legion Baseball action on Thursday at the Pederson Ballpark. Trey Bretl took the tough loss for Marinette.

The annual Fourth of July game came five days after a wild game between the two rivals, where Marinette scored nine runs in the seventh inning to take the lead before Menominee scored eight runs in the bottom of that inning to get a walk-off win.


Hanson had the walk-off double that night, but this game was a pitcher's duel.

Menominee scored in the first inning when Jesus Becerra hit a base hit to right center field, bringing Hanson home with eth first run. But in the third inning, Marinette's Nick Teteak got the base hit to right field to bring home Trey Bretl with the tying run.

Marinette had runners at the corners with no out in the fourth inning when they tried to squeeze home the go-ahead run. Trevor Bloch couldn't get the bunt down, and Mason Risner was hung out to dry. Becerra gunned it back to third base and Keaton Uecke with the tag. That kept the game tied at 1-1.

In the fifth inning, Menominee took the lead. With runners at the corners, Uecke beat out the infield single to bring home the go-ahead run. Then a wild pitch brought home Jason Janquart in a big cloud of dust, with Bretl protesting that he had put the tag on in time.

Hanson threw 105 pitches, getting to within two outs of a complete game. Monroe got the pop fly back to him for the final out, with a runner on third base.

Bretl also threw a five-hitter, going 5 2/3 innings, before also reaching his pitch limit. Hunter Woulf finished up and did not allow a run.

Click the thumbnails in the ARTICLE HIGHLIGHTS box above to see photos and video highlights.