Escanaba, Bark River Split American Legion Games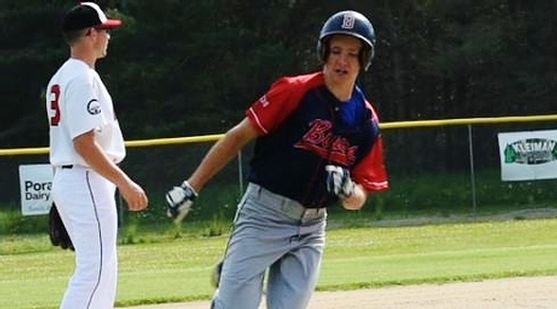 BARK RIVER---The Bark River Bucs beat the Escanaba Cubs, 1-0, in the first game of a doubleheader Friday night in Bark River. The Bucs had a 6-1 lead in the nightcap before the Cubs staged a late rally to post a 13-8 win to earn the doubleheader split.

The first game took barely an hour to play, and it was a pitcher's duel between Bark River's Mason Korhonen and Escanaba's Johnny Schlenvogt. The only run came home in the bottom of the second inning when Nick Javurek ripped one up the center field gap.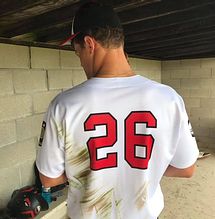 Cubs outfielder Schyler Andersen dove and nearly got to it, but the ball got by him, all the way to the fence. By the time it was thrown back in, Javurek motored all the way around the basesing for the inside-the-park home run.

"I just saw the first pitch I could, and I squared it up," Javurek said. "I saw him dive, and he missed it. I was like, well. This could be a triple, you never know. But I saw Matt (Coach Richer) at third sending me home, and I thought it was going to be a close play there, but I ended up just being able to stand up."

The next time Javurek was up, he led off the fourth inning with a nearly identical shot to the outfield that Andersen also dove for, and also missed. This time, Javurek settled for a triple.

"That one, I thought I'd only going to get a double on," Javurek said. "But then I saw him pick it up when I was rounding second, and then I tried stretching it to three, and I ended up getting it."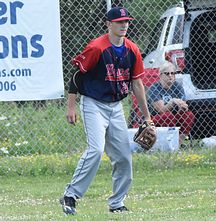 But moments later, Schlenvogt got revenge when he picked Javurek off of third base.
"That was a good move by Johnny," Javurek said. "I've never seen that one before. I was not expecting that. I thought he was going through the wind-up there, so I took a big lead. A little too much, probably. When he threw it over, I was confused."

Those were the only two base hits the Bucs got outside of the infield against Schlenvogt, but it was enough, because the Escanaba hitters could not solve Korhonen. He walked three batters, but only allowed one hit (a two-out single by Zach Tyler in the third inning).

Korhonen picked off one runner and another was erased on a 6-4-3 double play.

"We haven't had a game since the Escanaba tournament (nearly two weeks ago)," Korhonen said. "We were a little rusty, probably. I was. I was a little inconsistent. I went deeper (in the count) than I would like to, and didn't get ahead as much as I wanted, and couldn't use my off-speed stuff as much. But that happens some days. But we got the job done and got a shutout."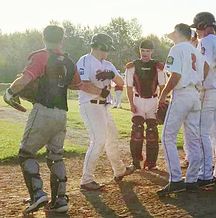 The second game was a marathon.

Bucs left-handed pitcher Sam Hall (who used to play for the Cubs) was uncharacteristically off-target, walking six batters in the first two innings. But he didn't allow any hits, and the Cubs got just one run out of all of those walks.

Bark River, meanwhile, took a 6-1 lead with three runs in the first inning and three more in the third, chasing Cubs pitcher Andersen with the bases loaded and one out in the third inning, Noah Lancour came on to get out of that jam, and then the Cubs began to rally.

In the fifth inning, Hall got the first two men he faced, and seemed be on cruise control. But Andersen was able to beat out an infield hit to keep the inning going. Hall had Andersen picked off of first base, but in a lengthy run-down, the Bucs botched the play, and Andersen was safe.

Tyler ripped a base hit to put two men on, then Schlenvogt smoked a long three-run homer into the trees behind the left-center field fence. All of a sudden, it was a 6-4 game.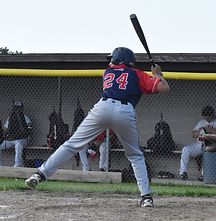 "I haven't played since last year's high school season (before this summer season) and I only have a couple of hits on the year," Schlenvogt said. "When I hit that one, I knew that it was gone. I didn't want to bat-flip it, but I knew it was gone."

That got the Cubs back in the game, but they still trailed by two entering the final inning. Bark River added what looked like an insurance run in the bottom of the fifth, and Robinette relieved Hall.

Robinette, however, struggled with the strike zone, walking all three men that he faced. Javurek came on to pitch, and walked Connor Aiken to force in a run.

A key play happened next as Andersen hit a fly ball to center field that was dropped, allowing another run to score, bringing Escanaba to within 7-6.

Then with one out, Schlenvogt hit one past third to bring home two more runs, giving the Cubs their first lead at 8-7. That set off a string of Cubs RBI base hits, with Riley Lamb smoking a bullet past Javurek for a two-run double to make it 10-7. Noah Lancour, Drew Rodman and Aiken also followed with run-scoring hits.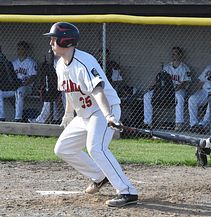 "The guys got the sticks going," Schlenvogt said. "Honestly, that's been our biggest issue this year. We don't get guys on, and sometimes when we do, we have trouble bringing them around the bases, or we hit into double plays."

Hunter Lancour pitched the final two innings and gave up two runs, but had a lively fastball and accounted for all six outs with strikeouts in those innings. It was his first pitching performance after hurting his shoulder eight weeks ago.

"It felt really good to come out and have some strikeouts and finish the game for these guys and get the win," Lancour said. "I was kind of nervous to start, and once I got into my groove, I felt pretty good. We got 'er done."

Click the thumbnails in the ARTICLE HIGHLIGHTS box above to see photos and videos taken by Reece Korhonen. Also, see (and hear) interviews with Javurek, Lancour, and Schlenvogt, and Mason Korhonen.