Kingsford, I.M. North Win All-Star District Openers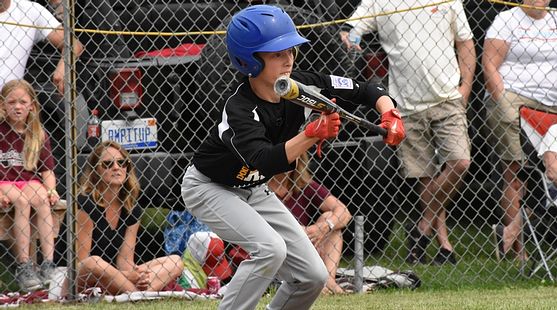 KINGSFORD---The District Ten Little League Major Boys (age 11-12) district tournament began on Sunday in Kingsford. Iron Mountain North topped Tri-County, 16-4, and Kingsford blanked Escanaba, 10-0. Both games were called in the fourth inning.

In the first game, Kingsford scored five runs in the first inning and added five more in the third inning. Andres Finley went three-for-three and drove in three runs. Trent McLain had an RBI triple in the first inning, and Garrett Brown had a double and an RBI single.


Finley started the game on the mound and went 1 2/3 innings for Kingsford, giving up one hit and striking out three. Dakota Woodward finished up.

Escanaba had three hits: singles by Nolan Bink, Cade Krueger, and Ashton Rymkos. Escanaba also had three base runnerd on walks and another on an error, but had three runners thrown out on the bases, including two runners in the fourth inning.

Cannon Arnt took the loss on the mound, giving up eight runs on seven hits and throwing 60 pitches. Bink and Brian Boutillier threw in relief for Escanaba.


In the second game, Iron Mountain North scored 14 runs in the first inning and cruised from there. Ian Marttila, Aiden Ellis, Evan Menolini, Max White, and Brady Jungwirth all had run-scoring hits. Ellis started the game on the mound for Iron Mountain.

Trent Rutter started and took the pitching loss for Tri-County.

Kingsford faces Norway at 4:45 CT on Monday. Escanaba takes on Tri-County at 6:45 CT. Iron Mountain North will play its next game on Tuesday. The Escanaba-Tri County game will be broadcast on WCHT-AM (NewsTalk 600) and www.rrnsports.com.

Click the thumbnails in the ARTICLE HIGHLIGHTS box above to see photos and videos from both games. Thanks Anna Boutillier for the help!