STAYING ALIVE! Escanaba Boys Rally Past Norway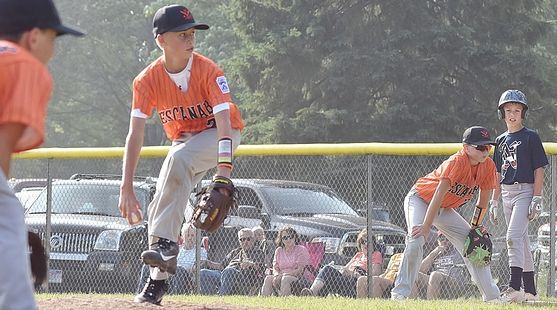 KINGSFORD---The Escanaba Major Boys (age 11-12) Little League baseball team rallied with six runs in the final two innings to beat Norway, 7-5, in district tournament action Tuesday night in East Kingsford.

In the second game, Iron Mountain North edged Kingsford, 4-2.


Escanaba won for the second straight night after being shut out by Kingsford, 10-0, on Sunday.

Escanaba scored in the first inning when Graham Johnson was hit by a pitch and scored on a bases-loaded walk to Ashton Rymkos. The bases were still loaded with no outs but Lennox Peacock hit a ground ball that led to a force play at the plate. A second runner was also thrown out at the plate.

Peacock threw well on the mound for Escanaba, striking out seven batters and walking only two.

But his pitch count rose quickly and Norway took advantage with a four-run third inning, Landon Amundson had an RBI double to bring home Evan Moyer, who led off with an infield hit.

Cole Baij had a two-run hit to right field (just out of the outfielder's reach), and Maddex Burklund came off the bench for a run-scoring hit to make it 4-1.

Peacock reached his pitch count with one out in the fourth inning, and Nolan Bink came on to pitch. He got out of a jam when Peacock made a diving catch in center field to rob Bryce Adams of a two-run hit.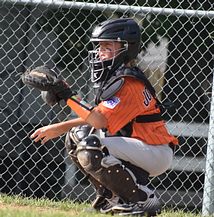 In the fifth inning, Escanaba rallied against the Norway bullpen. Adams threw the first 3 1/3 innings, but was removed on his 40th pitch so that he could go catch the rest of the game. Carsyn Moore, Cameron Varda, and Moyer followed him to the mound, with Moore and Varda both throwing 20 pitches.

In the fifth inning, Rymkos came through with a two-out, two-run single to right field, and Owen Fields followed with an RBI single to tie the game at 4-4. Escanaba stranded the bases loaded, however, and Norway got an unearned run in the bottom of the fifth inning to regain the lead.

In the top of the sixth, Escanaba got a one-out single from Johnson, then Cannon Arnt followed with a hit. Bink was out on a fielder's choice play, and Escanaba was down to its final out. Rymkos hit a ground ball that was fielded OK, but the throw was poor, and two runs scored, giving Escanaba a 6-5 lead.

Peacock then got an infield hit to make it a 7-5 game.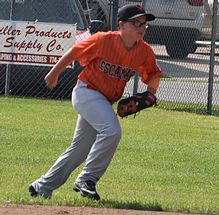 Moyer was able to get two strikeouts to strand two Escanaba runners, keeping it a two-run game heading to the bottom of the sixth inning.

Bink gave up a one-out walk in the bottom of the sixth inning, but was helped out by his defense to get the final two outs.

First, Max LeDuc made a nice running catch in foul ground in deep right field to retire Baij.

Then Peacock robbed Adams for the second straight at-bat with another diving catch in center field to end the game.

In the late game, Kingsford's Andres Finley got a base hit to score Garrett Brown, and he came all the way around to score when the throw got away. But Kingsford could not hold that 2-0 lead as Iron Mountain North came from behind to win, 4-2.

Iron Mountain North advances to Thursday's district championship game.

Escanaba and Kingsford will play in the loser's bracket final on Wednesday. Game time is 6:00 CT/7:00 ET. The game will be broadcast live on WCHT-AM (NewsTalk 600) and on-line at www.rrnsports.com.

Click the thumbnails in the ARTICLE HIGHLIGHTS box above to see photos and videos taken by Anna Boutilier, and see/hear interviews with Rymkos and Peacock.