RIVALRY OPENER: Escanaba Tops Gladstone, 3-0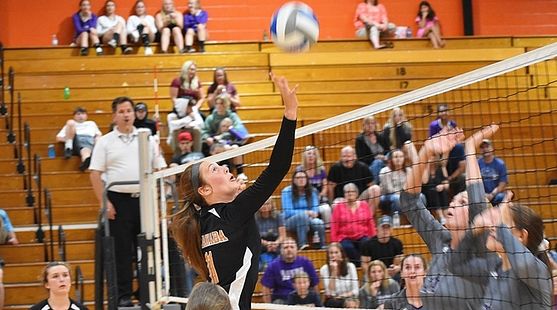 ESCANABA---The Escanaba Eskymos knocked off the Gladstone Braves, 3-0, in high school volleyball action Tuesday night in Escanaba.

The scores were 25-13, 26-24, 25-16.


The turning point in the match came late in the second set, when Gladstone rallied to take a 24-23 lead. They couldn't put it away on set point, however, and Escanaba won three straight points to take the set.

Instead of an even match, Escanaba had a 2-0 lead, and went on dominate the third set from start to finish.

"The second set was interesting, for sure," Escanaba Coach Adam Lambert said. "When they called time out, we brought them in and we talked about, I know that Gladstone's our neighbors and we're supposed to be nice to our neighbors, but knock it off and play some volleyball. I riled them back up!"

Gladstone Coach Bill Lawrence says his tesm tried to battle through adversity, with an injury during the match and top middle-hitter Megan Crow being cleared to play only this weel. Lawrence liked the team's rally even though it fell short.

"It was a a nice rally and there was a lot of give and take," Lawrence said. "Everyone played well. And then, that was a bit of an emotional, mental blow for the girls. And we weren't really able to get Megan Crow set up because Esky was really bringing a lot of heat on that ball, and we were just struggling with that."

TUESDAY'S OTHER U.P. SCORES
Marquette 3, Gwinn 0
Negaunee 3, Westwood 0
Bark River-Harris 3, Menominee 0
North Dickinson 3, Rapid River 1
Carney-Nadeau 3, North Central 0
Mid Peninsula 3, Big Bay deNoc 0

Click the thumbnails in the ARTICLE HIGHLIGHTS box above to see photos and videos, and listen to comments from Escanaba Coach Adam Lambert and Gladstone Coach Bill Lawrence.