LENDING A HAND: Bay College Students Voluneer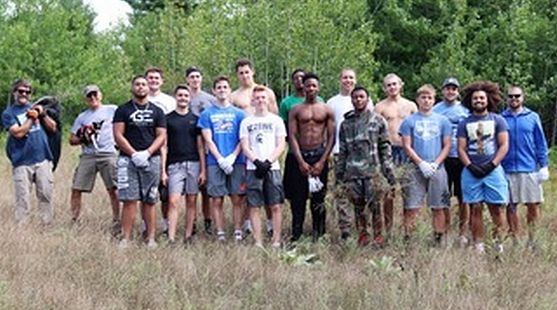 This story was written by Bay College Sports Information

ESCANABA---The Bay College student-athletes took time out of their busy orientation schedule last week to volunteer their time around the community. Approximately 100 student-athletes and coaches were hard at work, spending their time with the Escanaba Recreation Department, St. Vincent De Paul in Escanaba, and the Wells Sports Complex.

Norse Athletics started a three-day orientation schedule on August 21 in preparation for the upcoming season. Student-athletes moved into dorms on Tuesday and Wednesday.

Orientation included many components, Despite the busy schedule, Bay College Athletic Director Matt Johnson talked about the decision made by the department to reach out and give back to the community.

"We have been very fortunate to have received a tremendous amount of community support over the past two years, and we felt this would be a great opportunity for our student-athletes to give back to our community."

Escanaba Recreation Department Director was excited to work with the Bay students.

"Escanaba Recreation is happy Bay College contacted us to volunteer. We greatly appreciated the help and it got us started for fall work to begin. It was great to see all the student-athletes there having fun with it and lending us their time. It was greatly appreciated."

Cindy Bedard of St. Vincent De Paul echoed the sentiment. "They were excellent help, we were very happy to have them and they helped us a lot. We talked about it for days after, we were so happy to have help!"

Coach Johnson went on to elaborated on the experience.

"Because our student-athletes are so busy studying and training, many of them do not have the opportunity to have a job while in college, so participating in service opportunities gives them valuable experiences and life lessons that they will carry with them in their future endeavors. It is a win-win situation that our student-athletes thoroughly enjoyed."