SPREADING THE WEALTH: Eskymos Top Alpena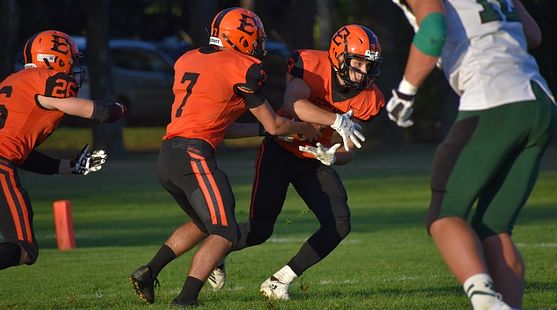 ESCANABA---Five different Escanaba Eskymos players scored touchdowns Thursday night and the Eskymos rolled past the Alpena Wildcats, 34-13, in their season-opener at the Escanaba Athletic Field.

Josh Bruntjens scored on a short run after the Wildcats had a bad snap on a punt on their first series, setting up the Eskymos inside the Alpena 10 yard line.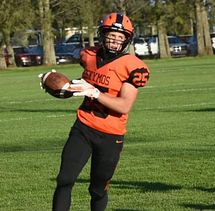 The next time they had the ball, Kyle Krutina scored on a short run.

Krutina also made both extra point kicks, making it a 14-0 Escanaba.

The Wildcats came back with a second quarter tocuhdown on a Jordan Schultz run, but the Eskymos came back in the two-minute drill right before halftime as Ethan Silverstone found Bryant Maki on a short dump-off pass, making it a 20-6 game at halftime. Maki had five catches, including a pair of long first down catches.


In the second half, the Eskymos put the game away with two nice defensive stands, and scored a pair of toucdowns. One came on a swing pass to Dayton Miron, and the other was on a 29-yard scamper by Tyler Lawson. Lawson also had a long first down reception.

VETERANS HONORED---The game was the annual Veterans Night celebration, where veterans were treated to a picnic and lined up to shake the Eskymo players' hands before the game. Veterans also lined up on the goalline and saluted as the EHS band played the national anthem.

SIX ADDED TO WALK OF FAME---At halftime, the Escanaba Quarterback Club inducted the latest members of the Eskymo Football Wall of Fame: Austin Young (2010-12), Jim Boyle (1964-67), the late Brent Lindstrom (1994-96), Bubba Leveille (1977-79), Butch Lebay (1965-67), and Ron Gerstner (1978-81).

JV, FRESHMEN ESKYMOS WIN---Nathan Howes scored three touchdowns and Karson Krutina added a TD run as the junior varisty Eskymos beat Alpena, 28-13. The JV Eskymos trailed, 7-0, at halftime, before scoring four second half touchdowns. The freshman Eskymos raced to a 34-0 lead and cruised to a 34-14 win over Alpena.

Click the thumbnails in the ARTICLE HIGHLIGHTS box above to see photos from the varsity game, videos of all five Eskymo varsity TDs, junior varsity TD's by Howes and Krutina, and comments from Maki and Lawson.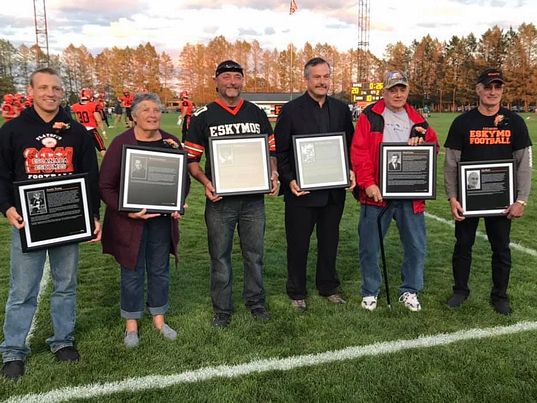 ---MORE---