Hansen, Braves Roll Past Saints In Football Opener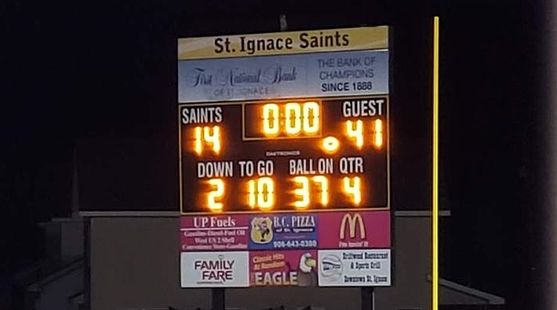 ST. IGNACE---Cole Hansen rushed for 181 yards and three touchdowns as the Gladstone Braves opened the football season with a 41-14 win over the St. Ignace Saints Thursday in St. Ignace. Hansen also had two interceptions on defense.

The Braves got off to a rough start when Drake Forrest was picked off on the first series. But Gladstone's defense stiffened, and the Braves had a big first quarter on offense.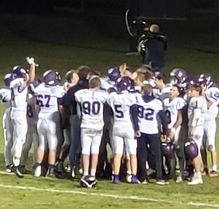 Forrest tossed a 16-yard touchdown pass to Ian Schwalbach to open the scoring, then Hansen scored on runs of four and one yards to cap short drives, and it was 21-0.

Each team scored once in the second quarter, with Zac Hanson scampering 38 yards for the Gladstone touchdown, before the Saints came back on a 14-yard touchdown pass from Lane Matson to Ryan LaVake. That made it 27-6 at halftime.

In the third quarter, Hansen scored his third touchdown of the game on a two-yard run, and Ryan Polley added a two-yard touchdown run.

The Saints final touchdown of the game came on a 35-yard pass from Reece McClean to Christian Koivuniemi.

Hansen had 181 yards on 24 carries and those three touchdowns. Polley had 46 yards on eight touches. Forrest completed 10 of 13 passes for 114 yards, one touchdown, and two picks. Schwalbach had two catches for 23 yards.

For St. Ignace, Matson completed 7 of 14 passes for 71 yards, one touchdown, and three interceptions. Garrett Rickley had 70 yards rushing on eight carries.

LaVake had four catches for 28 yards.

Gladstone hosts Gaylord next Friday night to open a three-week homestand. Kick-off is 7:00 and it can be heard live on WMXG-FM (Maveruck 106.3), WCHT-AM (NewsTalk 600), and on-line at www.rrnsports.com.