DEFENSE RULES: Gladstone Slips By Gaylord 20-7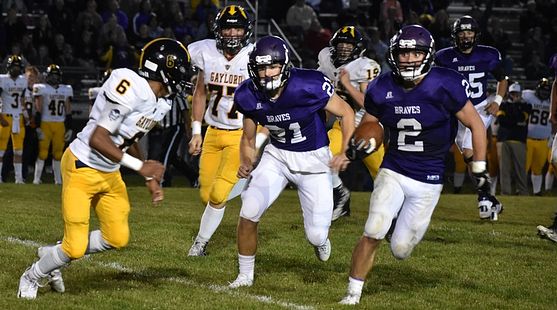 GLADSTONE---The Gladstone Braves played stifiling defense and outlasted the Gaylord Blue Devils, 20-7, in their home opener Friday night at the Marble Athletic Field.

Cole Hansen scored twice on offense for the Braves.


Gladstone overcame numerous penalties, including false starts and delays of game, as well as a fumble on an extra point attempt.

The Braves also had a fumble in the red zone and quarterback Drake Forrest threw an interception.

But the Gladstone defense was the story of the game, harrassing Gaylord quarterback Corey Deer all night long.

Braves sophomore Hunter Potier had a strong game, with a sack and a tackle for loss on consecutive plays late in the second quarter.


The Braves also did a nice job of tackling, with Caden Alworden and Hansen not letting much slip past them. Alworden had a pass interception, as did Zach Hanson.

Braves quarterback Drake Forrest completed 7-of-12 passes for 128 yards, one touchdown, and two picks..

Cole Hansen led the way on the ground with 176 yards on 27 carries 176 yards, and a pair of five-yard touchdown runs.'


John Hansen and Ryan Polley both had two catches.

Deer completed 10-of-16 passes for 148 yards, one touchdown, and two picks for Gaylord.

He had the biggest play of the game: a 77-yard touchdown pass to Jacob Cleaver in the second quarter that (with the extra point kick) had Gaylord up, 7-6, zt halftime.

But Forrest found Ryan Polley up the middle for a 36-yard touchdown pass, then after Alworden's interception stopped a Gaylord drive, Hansen broke off a 33 yard run deep into Blue Devil territory. He scored his second touchdown of the game to cap off the drive and essentially ice the game with five minutes to play.

Gladstone completed a sweep of the Blue Devils, with the freshmen winning, 22-8, and the junior varsity winnining, 20-0, earlier in the aftermoon.

The Gladstone varsity improved to 2-0 on the season, with two more home games to come. The Braves host Menominee (1-1) in the Great Northern Conference opener next Friday night at 7:00 ET. The game will be broadcast on WGMV-FM (Maverick 106.3), WCHT-AM (NewsTalk 600), and on-line at www.rrnsports.com.

Click the thumbnails in the ARTICLE HIGHLIGHTS box above to see photos and videos, and post-game interviews.