DOMINANT 'D': 'Cats Shut Down McKendree, 30-9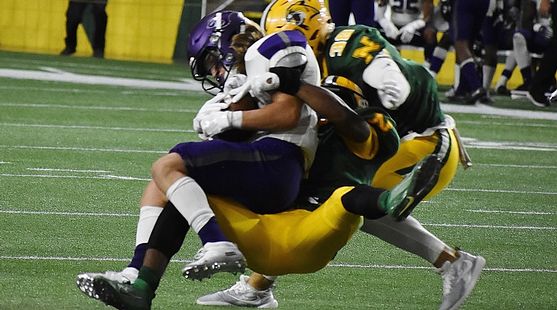 MARQUETTE---Quarterback Ryan Johnson threw three touchdown passes to lead the Northern Michigan University football team to a 30-9 win over McKendree University Saturday at the Superior Dome.

Johnson threw TD's to three different receivers after missing all of 2018 with an injury.

Freshman running bcak Tyshon King added a rushing touchdown and the NMU defense was stellar all day long, as the Wildcats avenged last season's loss to the Bearcats.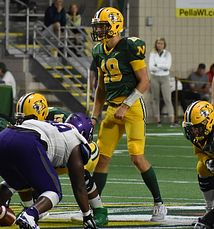 Johnson completed 10-of-14 passes for 134 yards and three touchdowns. He did not throw an interception and was sacked just one time.

Johnson returned against the team that ended his season in Week One last year when he suffered broken ribs on the second play of the game, leading to a punctured lung and a redshirted 2018 season.

''We had a really good off-season of preparation and a lot of guys stayed up (in Marquette) for the summer, and it was great," Johnson said. "We had a little slow start in the first half, but in the second half, we really blew it apart, and it was fun to watch them get worn out a little bit."

The main story, besides Johnson, was the Wildcat defense, which made play after play to put the offense in a good position.

"They played good today," NMU Head Coach Kyle Nystrom said of his defensive players. "We've got some key spots where we've improved our performances, at corner, and in the secondary. We had a fourth down stop, and that's a big 'turner' right there. This year's game was exactly the opposite of last year's game (a 34-28 loss). All that stuff that happened in our favor this year happened in their favor last year."

"I'm feeling good. I'm real proud of my team," rookie defensive back Antonio Howard, Jr., said. "We knew we could turn it around. We've been working hard all summer. We knew it was our time. We knew they were coming out in the spread, so we were prepared for it. They executed it, but we wanted it more."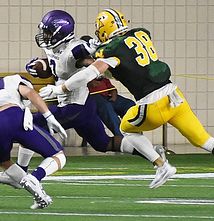 NMU sputtered early on offense when Deandre Caldwell fumbled on the first series.

The Wildcat defense, however, put on a goalline stand, stopping the Bearcats inside the one yardline.

The 'Cats went three-and-out on offense, though, and McKendree took the lead when quaretrbackTurner Pullen connected with Jacob Bachman on a 41-yard touchdown pass. The extra point was missed, so McKendree's lead was 6-0.

Caldwell returned the ensuing kickoff deep into Bearcat territory, leading to a short field goal by sophomore Daniel Riser. Then the Wildcat defense turned in the first of what would be many big plays, as Jacob Ager picked off Pullen at the 24-yard line.

The next play, Johnson hooked up with Ryan Knight on a 24-yard touchdown pass. The extra point kick by Riser gave NMU a 10-7 lead after the first quarter.

"We turned it around," Johnson said. "That's a compliment to our football team. Losing the ball on the first possession is not fun. It gets a team down. But we didn't get down at all. And it (his first TD pass) had to be to Ryan. We had a lot of fun. That was a cool touchdown pass. Kind of broken coverage down there, and I just kind of threw it up. I threw my first-ever touchdown pass to him and we've been through a lot together."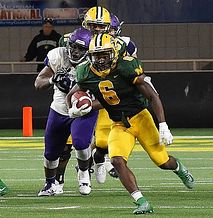 "Very exciting to be back with RJ," Knight said. "We had a great day. Just look to carry it on forward. We started oof just a little bit slow, but it takes time to develop the offense. We got if done today."

In the second quarter, the Bearcats had one nice drive that put the ball deep into NMU territory.

The Wildcat defense stiffened again, with Ager nearly making a one-handed interception, amd Issac Darkanehlo making back-to-back tackles. Brady Hanson had a key tackle on an outside run, and McKendree settled for a field goal. Northern still led, 10-9, at halftime, and went to work on offensive adjustments.

The NMU defense made another big play in the third quarter, with Tavion McCarthy getting an interception.

The Wildcats took advantage as freshman Tyshon King broke free for a 24-yard touchdown run that extended the NMU lead to 17-9.

The Wildcats put the game away with Johnson getting more and more comfortable in the QB spot, leading to a twn-yard touchdown pass to tight end Mitch Heaton, and an icing-on-the-cake 42-yard touchdown pass to Ben Loutsis in the fourth quarter.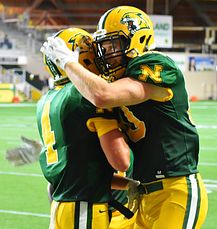 "Mitch is a big dude," Johnson said. "We kind of talked about that all through camp. He's 6-foot-6, 250! So, when he's manned up with a corner, why not take it? He's going against a guy who's 6-foot, 190? I mean, come on!" 

"It was nice, really good to come out here and get a huge win like that," Heaton said. "It gives us a really good feeling. He (the defender) wasn't that big, but he was all over me most of the time. He (Johnson) put it in the right spot, I just got in front of him, and I made the catch."

King led the 'Cats on the ground with 80 yards on 13 carries. Defensviley, Darkangelo led the way with eight tackles, six of them solo. Trevor Roberts and Jack Reiger both had five tackles. Pullen completed 13-of-25 passes for 119 yards and two picks for the Bearcats. Their top runner, Jace Franklin, was held to 46 yards on 13 touches.

"This lets everybody know that we're going to take it a game at a time, give it 110 percent," Howard said. "And keep our heads high, win or lose."

"We won the take-away battle, and we aon the rushing yards battle," Nystrom said. "When you're in the first game, it's all about those basics. Can you block and tackle, and can you protect the football. Not shoot yourself in the foot with critical penalties."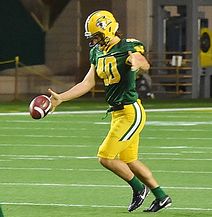 Nystrom added that guys like Hanson, Darkangelo, and others, learned a lot last year in tough situations, and it paid dividends on Saturday.

"Those guiys had to go through trial-by-fire as true freshmen," Nystrom said. "They weren't really, in their best interest, ready to be on the field, but we didn't have a choice."

"But when they make it through there, that first year, they're so much farther ahead than they would be as sophomores if they had sat. They're forced to grow up fast, but they're like hardened steel, they've been through hot fires."

NMU travels to the Lone Star State next weekend to face the University of Texas-Permian Basin. It is a night game in Odessa, Texas, at 7:00 ET/6:00 CT next Saturday. The game will be broadcast live on WUPT-FM (100.3 The Point), WCHT-AM (NewsTalk 600), and on-line at www.rrnsports.com.

Click the thumbnails in the ARTICLE HIGHLIGHTS box above to see photos and video highlights taken by Nate Belleville. Also, click the AUDIO buttons to hear comments from Johnson, Heaton, Knight, Nystrom, Howard, and hear Anthony Ladd's player spotlight interview.