Marquette Takes Flivver Cross Country Invitational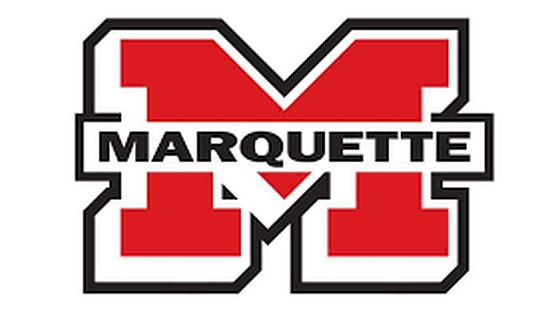 KINGSFORD---The Marquette High School boys and girls cross country teams won the Kingsford Invitational on Tuesday, with the boys squeezing out a one-point win.

BOYS RACE RESULTS
The Marquette Redmen edged the Houghton Gremlins by one point, 38-39, to win the Kingsford boys cross country invitational on Tuesday. Gladstone was third with 90 points and Menominee took fourth with 108 points.

Houghton's Joe Wood won the race in 18:21. Gladstone's Giovanni Matthews was second in 18:23. Marquette had the 5th, 6th, 7th, and 8th runners, led by Peyton Osborne in 19:00.

GIRLS RACE RESULTS
The Marquette Redettes cruised to the championship of the Kingsford girls cross country invitational on Tuesday. The Redettes had 51 points. Kingsford was second with 68, Houghton thid (73), and Menominee fourth (84). Kingsford's Melanie Wenzel won the race in 21:54. Houghton's Ingrid Seagren was secpnd (22:11). Marquette had the 6th, 7th, and 9th place finishers, ;ed by Olivia Moffitt (23:03).

GLADSTONE BRAVES BOYS RESULTS
Giovanni Matthews finished second overall in 18:23, while Drew Hughes was 15th (19:48) and Andrew Hanson was 16th (19:57), Blake Krouth took 26th (21:28) and Andrew Brackett was 32nd (22:39). There were 64 boys runners altogether.

ESCANABA ESKYMOS BOYS RESULTS
The Eskymos did not have a team score because you must have at least five runners, and Escanaba ran with just four boys. The top Eskymo runner was Derek Douglas, who ran the course in 20:20, good for 17th place. Dan Smith who finished 29th in 21:47. Colin Hudson was 31st (22:06) and Zach Morehouse was 45th (23:41).

RAPID RIVER ROCKETS BOYS RESULTS
Rapid River took fifth in the boys race, finishing with 158 points. The top Rocket runner was Matt Snay, who finished 22nd in 21:03. Max Lenaker finished 29th (22:16), Azariah Hernandez was 34th (22:45), Ben Lenaker 36th (23:20), and Garrett Nowak was 37th in 23:28.

GLADSTONE BRAVES GIRLS RESULTS
The Gladstone girls finished in fifth place with 116 points. Jamisyn Bergerson finished tenth overall, running in 24:02. Her teammate, Lilly Karl, ended up 12th, in 24:07. Samantha Strasler as 28th (26:24), Chloe Hanson 29th (26:25), and Lydia Tembreull was 37th (27:45). There were 62 girls runners altogether.

ESCANABA ESKYMOS GIRLS RESULTS
The Escanaba girls finished in seventh place with 178 points. The top Eskymo runner was Ciara Ostrenga, who finsihed in 27th in 26:21. Morgan Makosky was 35th (27:20), Ava Fix 36th (27:23), and Holly Chenier was 39th (27:54).

RAPID RIVER ROCKETS GIRLS RESULTS
The Rockets finished in ninth place with 215 points. The top Rocket was Taylor Vanoss, who finished 19th in 25:26. Cecilia Pilon was 34th (27:17), Aerianna Spriks 52nd (32:56), Madi LaChance was 54th (33:08), and Natalie Belanger was 56th (36:40).