HOMECOMING FUN: Esky Girls Hit The Gridiron

ESCANABA---Homecoming Week continued at Escanaba High School with the annual girls "powder puff" flag football game Wednesday night.

The game was held in Ludington Park for a third straight year after the school administration decided to stop allowing the game to be played on school property due to safety concerns.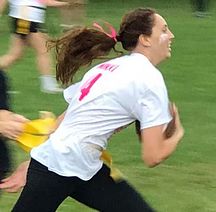 This game was organized by the students, and drew a large crowd, including many parents and school employees.

There was even a trailer selling french fries, and Escanaba High School football players Josh Bruntjens and Grant LaMarche broadcast the game over a loudspeaker.

In the fun contest, the EHS Seniors beat the EHS Juniors, 36-18.

Senior quarterback Taylor Ray threw a touchdown pass, ran in a score, and converted two extra poimts. Junior quarterback Nicole Kamin threw two touchdowns, and Maysie Lancour intercepted a pass.

The boys get on the Escanaba Athletic Field Friday night against Marquette.