LIGHTS OUT! Eskymo-Redmen Game Suspended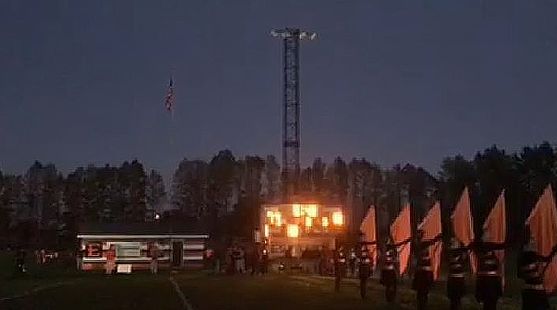 ESCANABA---The Marquette Redmen and Escanaba Eskymos will have to finish Friday night's football game on Saturday after a transformer blew and caused the stadium lights to malfunction in Escanaba. Marquette was leading the game, 10-7.

In the more than 100 years that Eskymo football has been played, this might be one of the most memorable Homecoming games in memory. It will be one of the longest, as it will have to be finished on Saturday because the lights could not be repaired.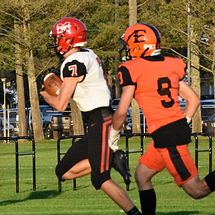 "I feel terrible for the fans, and the players, and for Marquette to have to come back down here," Escanaba Coach Dave Howes said. "For Homecoming, it's kind of a bummer. But we'll come back here at 11 tomorrow."

"This is a first," said Marquette Coach Eric Mason. "I camt say as I've ever seen anything like this. And I hope to not see it again."

Redmen sophomore quarterback Austin Ridl hit senior Drew Wyble for a long touchdown on 3rd-and-10 to give the visitors the lead on the first possession.

Then after the Eskymos sputtered on offense, Brady Wright broke several tackles for a 20-yard run that led to a 26-yard field goal by Wyble.

Marquette led, 10-0, after the first quarter.

Marquette had two other scoring chances in the second quarter, but Escanaba junior defensive back Tyler Lawson intercepted two Ridl passes. After the second one, the Eskymos put together a nice drive that ended on a nine-yard TD run by Josh Bruntjens.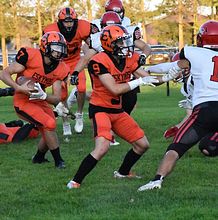 That happened as it got darker and darker at the Escanaba Athletic Field, as city electric crews frantically tried to repair the transformer.

The press box lights still worked, so did the scoreboard. The lights next door at Al Ness baseball field also worked.

But not the stadium lights.

The halftime Homecoming celebration was done on the field in near-darkness, with students and others in the stands urged to turn on their cell phone lights and emergency vehicles lining the field with their lights on.

Ethan Silverstone and Maddy Ide were crowned as Homecoming King and Queen.

The lights still would not work, so the game is being suspended and the second half will be played Saturday morning at 11:00.

"It was a great start," Mason said. "We have to sustain it. We have to come out tomorrow and do it again. The great thing about our kids is they''re even-keeled. They don't get too high and they don't get too low. So, we're okay with this."

"It was a little sluggish with penalties that have been killing us all year," Howes said. "We found some things late in the second quarter on offense and got some momentum, then this happens. Hopefully, we can keep it going tomorrow."

Click the thumbnails in the ARTICLE HIGHLIGHTS box above to see photos and videos, and interviews with both coaches.