BOUNCING BACK: Eskymos Dominate Kingsford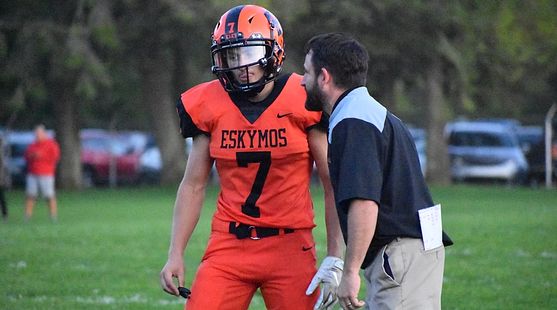 KINGSFORD---Josh Bruntjens scored four touchdowns on offense and Ethan Silverstone intercepted three passes on defense as the Escanaba Eskymos whipped the Kingsford Flivvets, 31-8, Friday night at Flivver Field.

It was a key Great Northern Conference win for the Eskymos, after they lost a heartbreaker to Marquette on Homecoming last Saturday afternoon.

Silverstone intercepted all three of those passes in the first half, and the Eskymo defense forced a total of five Kingsford turnovers.

The game was scoreless after the first quarter, but in the second quarter, Dayton Miron scored on a one-yard run and Bruntjens scored on a six-yard run to make it 12-0.

In the second half, after Kingsford fumbled the kickoff, the Eskymos took advantage when Bruntjens scored his second touchdown of the game, this time from 13 yards out.

Later, Bruntjens ran in a five-yard touchdown to make it a 24-0 lead.

Kingsford (2-3) got on the board with a 25-yard touchdown run by Carter Kreski, and the Flivvers converted the two-point conversion run.

But Bruntjens capped the scoring with a roughly 30-yard touchdown run.

The Eskymos finally made an extra point after four misses as Silverstone kicked it through the uprights, making it a 31-8 final.

Escanaba (4-1) travels to Menominee (4-1) for another big Great Northern Conference game. Game time is 8:00 ET/7:00 CT.