HAPPY HOMECOMING: Gladstone Tops Soo, 20-8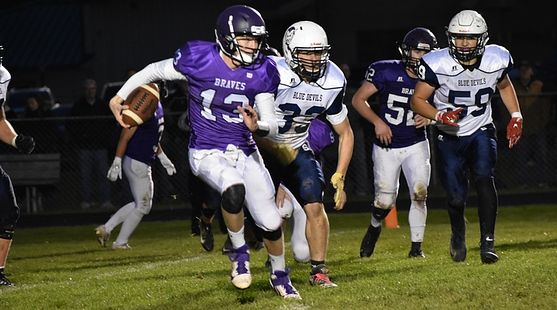 GLADSTONE---The Gladstone Braves snapped a three-game losing streak Friday night with a 20-8 win over Sault Ste. Marie on Homecoming.

The game was marred by numerous penalties on both teams, along with an altercation in the first quarter that resulted in the ejection of one player on each team.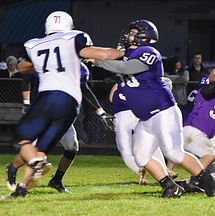 The Braves struck in the first two minutes as quarterback Drake Forrest found receiver Zach Hanson for a long 70 yard touchdown pass.

The Braves led, 7-0, after the extra point kick, and that's the way it stayed at halftime thanks to a Caden Alworden interception at the goal line in the final minute of the second quarter.

In the third quarter, a high snap on a Blue Devil punt had the Braves deep in Sault territory, but a Brenette Swanson interception on a tipped ball kept Gladstone off the boar.

But moments later, Toby Wagner recovered a fumble and Cole Hansen wenr in from 16 yards out to put Gladstone in front, 13-0.

Later, Forrest found John Hansen wide open for a 61-yard touchdown, and after the extra point kick, Gladstone had a 20-0 lead in the fourth quarter.

The Blue Devils broke the shutout on a one-yard touchdown run by Jack Swan, and they had one last gasp in the final minute before a Cole Hansen interception ended the game.

Gladstone improved to 3-3 on the season while Sault Ste. Marie fell to 4-2.

The Braves travel to Escanaba next Friday night at 7:00. The game will be broadcast on WGMV-FM (Maverick 106.3), WCHT-AM (NewsTalk 600), and on-line at www.rrnsports.com.

Click the thumbnails in the ARTICLE HIGHLIGHTS box above to see photos and videos, and listen to post-game comments from Coach Jeff Hansen, center Greg Chenier, and defensive lineman Toby Wagner.