NMU Offense Sputters In 27-14 Loss To Wayne St.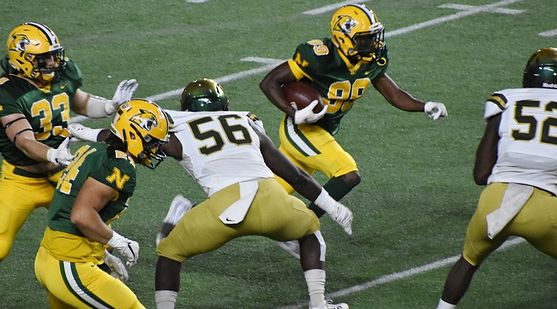 MARQUETTE---The Northern Michigan University football team managed just seven first downs and had the ball for just 20 of the 60 minutes played on Saturday, as the Wayne State University Warriors rolled to a 27-14 win at the Superior Dome. 

"Our offense has just got to get better," NMU Head Coach Kyle Nystrom said. "They've got to be more productive and drive the ball. We (defense) can't be out there as long as we are. Some of it is our fault, too, for not getting off the field. But it's the whole team."

It was a disappointing loss for thw Wildcats, who were looking to build momentum headed into next week's rivalry game at Michigan Tech. Instead, it's back to Square One as Northern could muster only one offensive touchdown for the third straight week.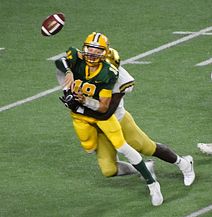 "I believe those kids are giving us everything they've got, but it's just tough," NMU offensive coordinator Dan Fodrocy said. "You've just got to keep pushing. I don't believe this team will quit. The reality is, you've got to stay the course."

"We're just having a hard time getting our footing on offense. It's a tough one to swallow. They just outplayed us. They've found their rhythm and we haven't yet."

Very little went right for the Wildcats and quarterback Ryan Johnson, who was sacked five times and was routinely hurried off the snap...especially with 6-6, 307-pound offensive lineman Payton Muljo out with an injury.

"We just didn't have enough horsepower without Payton in there, and then (Derek) Crane goes down." Nystrom said. "We're playing young in there now, and that's not where you want to be playing young. Not in the offensive line, and not in the defensive line. That's just where we are right now. We've got to get some guys back in there."

Northern took the lead early in the game after safety Brady Hanson intercepted a tipped pass and returned it 34 yards to the Wayne State 14 yard-line. Freshman Tyshon King ran it in from four yards out, and Daniel Riser's kick made it a 7-0 NMU lead.

Wayne State responded, however, with a 17-play, 75-yard drive that used nearly ten minutes off of the clock. Quarterback Dakota Kupp found Darece Roberson in the back of the end zone for a four-yard touchdown pass, tying the game at 7-7.


Northern regained the lead seconds later as Tyquan Cox returned the ensuing kickoff an electrifying 99 yards for the touchdown. Riser's kick made it 14-7.

Wayne State replied with another 90 yard drive, capped by a 45-yard touchdown run by King Sanders. Then after the 'Cats sputtered again, the Warriors went on their third 90-yard drive of the half, with Roberson hauling in a 24-yard touchdown pass.

That gave Wayne State a 21-14 lead.

Hanson had his second interception of the first half, and Johnson engineered what would be the only offensive drive of the game for the 'Cats. Unfortunately, it ended with a fumble at the five yard-line, and NMU did not threaten in the entire second half.

"That was the play that flipped the game," Fodrocy said. "This is a pretty poor offense. I'm not afraid to say it. People can point the finger at me. It's my responsibility."

The NMU defense held Wayne State to three field goal attempts in the second half, with Niccolo Seilo making two of them.

The Warriors had an astounding 26 first downs to NMU's seven. They held the ball for 40:01 to 19:59 for the 'Cats. They had 491 yards of total offense to 174 for NMU. Of those yards, Wayne State had 366 on the ground to just 36 net rushing yards for NMU.


One down side for the Warriors was seven penalties for a whopping 141 yards.



Hanson finished the day with two interceptions and nine tackles.

Sophomore Isaac Darkangelo tallied 14 tackles for a season high and tied his career high.

Freshman Tavion McCarthy tallied 11 tackles. Redshirt freshman Antonio Howard, Jr., and sophomore Mequon Hudson each finished with 1.5 tackles for loss. Wayne State improved to 3-2 on the season, 2-1 in the GLIAC.


"When we make mistakes, block the wrong guy, go the wrong way, everything falls apart," Nystrom said. "We've got to play perfect as far as schemes and techniques to win. That's just where we are right now. It's a matter of maturity. You need those fourth and fifth year seniors, which we don't have enough of right now."

Northern Michigan fell to 1-4 overall, 0-3 in the GLIAC. The Wildcats travel to Sherman Field in Houghton next Saturday to face Michigan Tech in the Miner's Cup game. Kickoff is scheduled for 1:00 and the game will be broadcast on WUPT-FM (100.3 The Point), WCHT-AM (NewsTalk 600), and on-line at www.rrnsports.com.

Click the thumbnails in the ARTICLE HIGHLIGHTS box above to see photos, videos, and listen to post-game interviews with Head Coach Kyle Nystrom and Assistant Coach Dan Fodrocy. Also click the AUDIO buttons to hear interviews with NMU men's soccer coaches Dave Pogge and John Sandoval, and NMU cross country coach Jenny Ryan and senior runner Katie Smith.