Bay College Softball Sweeps Fall Classic Scrimmages

WELLS---The Bay College Norse softball team swept all four exhibition games at the Fall Classic tournament in Escanaba this weekend, beating Alpena Community College and Northern Michigan University's Club team twice each on Saturday and Sunday.

On Saturday, the Norse beat Alpena, 14-0, then topped the NMU Wildcat Club team, 18-2. Both games were called on the mercy rule after five innings. On Sunday, the Norse repeated Saturday's feet by whipping Alpena, 20-5, and NMU, 23-0.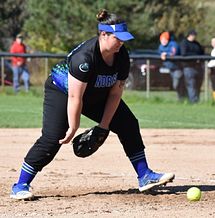 SATURDAY'S RECAP
In the win over Alpena, freshman Eden Oswald of Bark River-Harris threw all five innings to earn the win. She struck out seven batters.

At the plate, freshman Lexi Chaillier of Escanaba had two hits and drove in five runs. Sophomore Richelle Vandeville of Rapid River had two hits and drove in three runs. Freshman Korey Kaukola of Ishpeming had two hits.

In the win over NMU, sophomore Beth Gannigan had three hits and drove in six runs to lead the Norse attack. Freshman Morgan Letteriello of Gladst0ne had two hits and drove in three runs. Sophomore Kaitlyn Hardwock of Gladstone also had two hits.

Escanaba native Hannah Edington pitched all five innings to earn the victory.

SUNDAY'S RECAP
The Norse started quickly in their rematch with the Alpena Lumberjills, as Letteriello tripled home two runs to give her team a 4-0 lead. Vandeville's fly ball to left field was caught, but Letteriello came home to score, making it a quick 5-0 lead.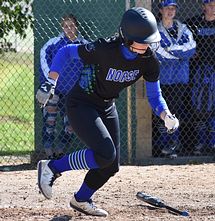 Freshman Kourey Kaukola of Ishpeming doubled home a run in the second inning to make it 8-0, then in the third inning, freshman Heather Bergstrom of Escanaba did the same to swell the lead to 10-0.

Sophomore Maddy Griffin of Escanaba just missed a home run by banging a double off of the outfield fence to bring home another run, then sophomore Beth Gannigan of Coleman, Wis, followed with an RBI double of her own.

Kaukola ended up with four base hits and three runs batted in, while Bergstrom added three hits and three RBI.

Sophomore Kaitlyn Hardwick of Gladstone also just missed hitting a home run with a shot to the fence. She had three hits in the game.

In the pitcher's circle, Letteriello threw three innings and Edington tossed two.

In the final game of the weekend, the Norse rolled to another easy win over NMU, 23-0, as Oswald threw all five innings, striking out ten batters. Oswald also had four hits and drove in six runs at the plate. Sophomore Olivia Capodilupo also had a big game, getting three base hits and driving home six runs. Letteriello had two more hits.

Bay College improved to 9-1 on the exhibition season. The Norse travel to Hancock next Sunday to take on Finlandia University.

Click the thumbnails in the ARTICLE HIGHLIGHTS box above to see photos and video highlights from Sunday's Norse-Alpena game, and hear comments from Bay softball coach Heidi Charon.