Mid Peninsula Volleyball Slips By Bark River-Harris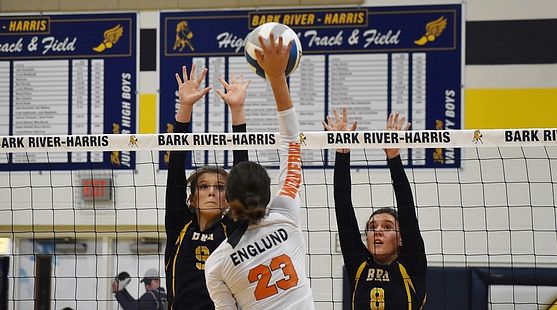 HARRIS---The Mid Peninsula Wolverines cruised past the Bark River-Harris Broncos, 3-0, in high school volleyball action Monday night.

The scores were 25-20, 25-15, and 25-21. Kennedy Englund had ten kills, ten digs, and six blocks for Mid Peninsula. Chevy Koski added six kills and ten digs.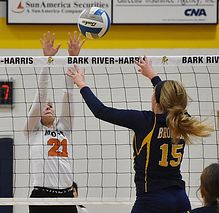 Elli Paulsen had 21 digs amd Camryn Croaadsell also contrubted ten digs.

"Our main goal was a lot of strong net play today," Mid Pen Coach Emily Kayser said. "We had a lot of doubel blocks with Chevy Koski and Kennedt Englund. This late in the season, the girls, right now, are clashing very well together. They're playing awesome, great chemistry. Everyone's just playing their roles the way they're supposed to be right now."

Mid Peninsula bounced back from its five-set loss to Carney-Nadeau.

The Wolverines improved to 7-2 on the season, 5-1 in conference matches.

Bark River-Harris was led by Makena Lockwood with ten kills amd 11 digs. Alaska Peterson aded 18 assists, while Tressa Ives and Lexi Berg both had four kills.

Broncos Coach Jen Ives was pleased with her team's effort, especially with one of her main middle blockers, Kassidy Roll, our of the lineup. Four sophomores started.

"There was nothing that I could've said, 'well, if we would've done this, maybe we would have won," Ives said. "They executed well. Mid Pen didn't miss many serves.They played a really high level of volleyball. I don't think there's a whole lot different we could've done. Mid Pen just played really, really well tonight."

BR-H fell to 6-3 in conference play.

Click the thumbnails in the ARTICLE HIGHLIGHTS box above to see photos and videos from the match and hear comments from both coaches.