NO DOUBT ABOUT IT: Eskymos Roll Past Braves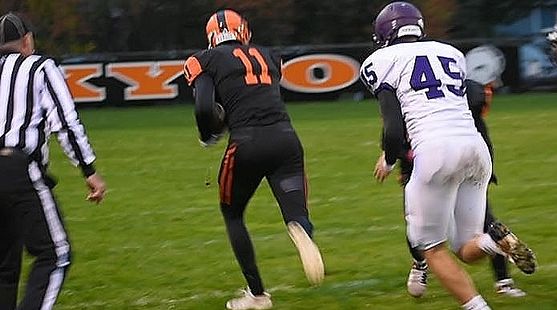 ESCANABA---The Escanaba Eskymos clinched a state playoff spot Friday night with a 35-0 win over the rival Gladstone Braves under wet, sloppy conditions at the Escanaba Athletic Field.

Things went badly for Gladstone from the first series, when quarterback Drake Forrest was injured on a play in which he was intercepted by Eskymo senior Grant LaMarche.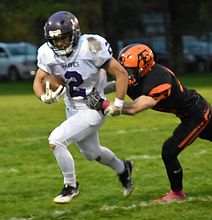 And the Eskymo offense did pretty much what it wanted to do as the offensive line dominated in the wet, muddy trenches.

Josh Bruntjens scored on a six-yard run, and after Ethan Silverstone kicked the extra point, Escanaba had a 7-0 lead.

The Eskymos went to the air early in the second quarter after Silverstone found Bryant Maki for a 13-yard pass into the red zone, and then tossed a 19-yard touchdown pass to Tyler Lawson to make it a 13-0 game.

Escanaba went on another drive right before halftime, recovering two of their own fumbles before Silverstone threw a three-yard touchdown pass to Maki at the pilon. Bruntjens ran in the two-point conversion, giving Escanaba a 21-0 lead at halftime.

The halftime was an extra ten minutes long, with a fireworks show and a ceremony to honor the two-time state champion Escanaba Eskymos softball team.

Gladstone, with sophomore quarterback Cam Kelly at the helm, could get nothing going in the third quarter. In fact, the Braves had no first downs and negative total offense in the first two-and-a-half quarters of the game.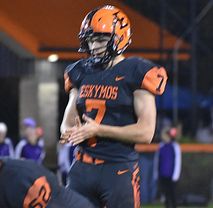 Escanaba put the game away with two third quarter touchdsowns. The first was on a one-yard quarterback sneak by Silverstone, after hitting Dayton Miron out of the backfield for a 20-yard pass that ended up just shy of the goal line.

The second touchodwn of the quarter, and final for the game, was on a reverse sweep by Miron, covering 16 yards.

Silverstone had a successfiul return after he sat out last week's game in Menominee with a concussion. He was cleared earlier this week, and was a game-time decision to play.

He ended up completing 10-of-14 passes, with five of them going to Maki.

Escanaba wrapped up a state playoff spot with a 6-1 record, with a home game next week against Traverse City Central and a road trip downstate to Swartz Creek.

Gladstone fell to 3-4 on the season and must win next week at home against Marquette, and beat undefeated Oscoda downstate, to have any shot at the playoffs.

Click the thumbnails in the ARTICLE HIGHLIGHTS box above to see photos and video highlights.